Welcome to the FREE version of our Sports Memorabilia Insider.
Today we have a deep dive into the 1980 Muhammad Ali Sparring Gloves that will IPO at Rally Road on Monday May 3rd, 2021 at 12 PM EST.
Follow me on Twitter for my latest insights and analysis.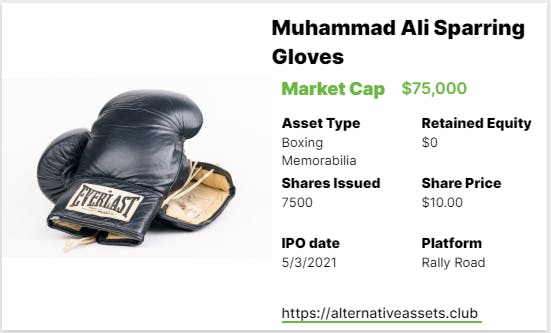 What are the 1980 Muhammad Ali Sparring Gloves (Inscribed to Stallone)?
This is a pair of sparring gloves that Muhammad Ali used in preparation for his final fight in 1980. They are signed by Ali and inscribed to the actor/filmmaker Sylvester Stallone. Stallone used Ali as the inspiration for the Apollo Creed character in the Rocky series of movies and was originally inspired to write them because of an underdog, Chuck Wepner, who fought Ali in 1975.
Rally originally purchased the gloves from Heritage in February for $60,000.
It IPOs on Rally Road at 12 PM EST on May 3rd for $75,000.
Add IPO to calendar
Cultural Relevance
This is from our previous write-up of the rookie card Rally IPO'd a couple weeks back (that is still funding, FYI): "Born Cassius Clay, Muhammad Ali was one of the most influential sporting figures of the 20th century. Often ranked the best heavyweight boxer of all time, he won a Olympic gold at age 18 and the heavyweight championship at age 22.
He lost four years of his prime while fighting prison when he refused the Vietnam draft, and he became an icon for the larger counterculture revolution in the US during the late 1960s and early 1970s.
Ali's most famous bouts — the Rumble in the Jungle, the Fight of the Century, and the Thrilla in Manilla — all came after his exile.
Despite calls to retire due to early signs of Parkinson's disease, he refused to retire until late 1981. He passed away in 2016." I'd add that Ali is still a major cultural icon. Combine that with Stallone and his connection to boxing via Rocky (easily the most famous and notable series of boxing movies of all-time) and the cultural relevance of this item is about as high as you can get.
Inferred Value – $50K+
[Detailed Valuation available to Insiders Only]
Category Strength
The sports memorabilia category had a -8% ROI in Q1 2021.
Subcategory Strength
Risk Profile
Asset Growth TTM
Growth Outlook and Future Catalysts
Another Creed movie is in the works, though Stallone won't appear in it. Ali memorabilia will always be desirable and a relatively unique item should hold its value. Long-term, I'd expect it to continue appreciating steadily, but there's nothing to cause a short-term spike in value.
Asset Liquidity
This will have a roughly 90 day lockup period then will trade quarterly.
Platform Risk
Intangibles
This is a pretty cool item, especially if you're a boxing fan.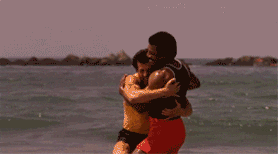 ---