Welcome to the latest issue of Video Games Insider – FREE VERSION
Today I'm going to look into a copy of Castlevania II: Simon's Quest for the NES that is IPOing at Rally Road on Wednesday, September 29th, 2021 at 12 PM ET.
1988 NES Castlevania II WATA 9.6 A+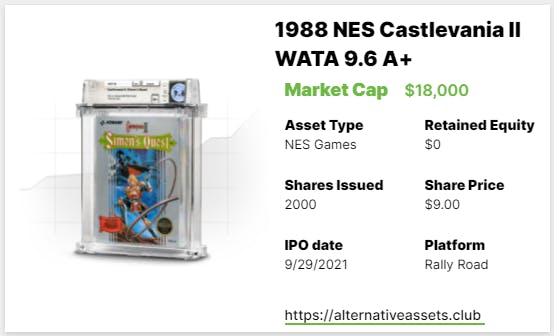 About the Asset
Released in 1988, this is a copy of Castlevania II: Simon's Quest for the NES graded as a 9.6 A+ by WATA. It is a Rev-A, Round SOQ variant and is one of nine 9.6 A+s with none graded higher according to Rally. It is an earlier variant than the Oval SOQs that also pop up at auction.
As far as the game itself goes, it was a sequel to the massively popular original Castlevania game, but upon its release it was both a commercial and critical disappointment. It is now looked back upon as an influential game due to its open-world style, but still isn't widely remembered in the way a lot of the NES games on fractional platforms have been thus far.
It was originally purchased by Rally for $15,000 on 8/13/21.
About the Drop
This asset will drop on Rally Road at 12 PM ET on September 29th for $18,000. There is no retained equity. Rally Road typically schedules the first trading window between 3-5 months after the IPO funds and the assets are supposed to then trade quarterly, but the schedule has been erratic and some assets are going 6+ months before opening for trading.
Add IPO to calendar
Recent Sales and Current Valuation
[Detailed Valuation available to Insiders Only]
Category Strength
The Video Game Cartridges category posted a 12% ROI in Q2 2021.
Subcategory Strength
Subcategory Risk
Past Asset Growth
Growth Outlook and Future Catalysts
There is an identical 9.6 A+ copy auctioning at Heritage next month.
I wrote this last week when writing up Wrestlemania, and it applies equally to Castlevania II — "In general, the recent Goldin and Heritage video game auctions have seen flat or downward results for non-blue chip games while the blue chips (Mario, Zelda, Punch-Out, etc) have continued to gain. I wouldn't consider this to be a blue-chip game — it wasn't critically or commercially memorable in the way blue chip assets are."
Verdict
I expect this IPO to sell out relatively fast — while Wrestlemania took a few hours to fund, the prior three video game IPOs on Rally all sold out within 5 minutes. Keep an eye out on the auction mentioned above in October for when this hits the secondary market whenever that may be. And as I wrote last week — "be aware that if the video game market is flat or down in the next 6 months you might be sitting on a losing asset."