Welcome to the latest issue of Trading Updates / Cultural Assets Insider – FREE VERSION
This is part of a new feature – a deep dive into assets that are trading this week. In this case, two Hermès Birkin Bags:
A 25 CM Bleu Saphir Lezard that opens for trading Wednesday, June 16th at 9:30 AM EST
A 20 CM Blue Sellier Faubourg that opens for trading Friday, June 18th at 9:30 AM EST
Follow me on Twitter for my latest insights and analysis.
What are the Assets?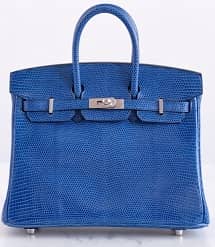 Both handbags are in the Birkin line made by Hermès, probably the most famous and desirable line of handbags in the world. Named after the legendary actress Jane Birkin, they are handmade from leather (from many different types of animals – crocodile, lizard, ostrich, calf, etc) with different precious metal and jewel accoutrements depending on the specific style.
The first of the two up for trading this week is the 25 CM Bleu Saphir Lezard Birkin, which is made from Niloticus Lizard skin and has palladium hardware. The year of production is unclear, and it was originally purchased by Rally in August 2019 for $55,500.
The second is the 20 CM Blue Sellier Faubourg, which is made from several types of leathers and has palladium hardware. It was the first Birkin bag ever to be made in the 20 CM size. The unique design is modeled after the façade of the Hermès flagship store in Paris. Only 50 of each color (Blue and Brown) were produced in 2019. It was purchased by Rally in September 2020 for $150,000.
What is the current status of the Assets?
The Bleu Saphir Lezard IPO'd on Rally Road in November 2019 with 1000 shares at $58/each for a total market cap of $58,000. It last traded on March 30th and closed at a price of $55.10/share (market cap of $55,100). It will open for trading again on Wednesday, June 16th at 9:30 AM EST.
The Blue Sellier Faubourg IPO'd on Rally Road in January 2021 with 11,000 shares at $15/each for a total market cap of $165,000. It took several weeks to fund. This will be the first time it has traded on the secondary market and will open for trading on Friday, June 18th at 9:30 AM EST. Note also that there is a Brown Sellier Faubourg from 2019 also on the secondary market that will trade July 30th and last closed with a market cap of $91,000.
Inferred Valuation / Target Share Price
[Full Valuation and Analysis available to Insiders Only]
Past Asset Growth
The value of both bags has essentially stayed flat over the past year. But staying flat is good news — unlike many of the other asset classes that have seen their values crash in recent months.
Growth Outlook and Future Catalysts
I wouldn't expect any short-term spikes in value here, nor would I expect the value to go down. Most likely, they will continue to be a solid store of value with steady growth for years to come. The Birkin bags are an extremely strong brand and still highly coveted by celebrities and influencers and aren't going to go out of fashion any time soon.
Final Thoughts