Welcome to Video Games Insider – FREE Version. We use Moneyball tactics to discover undervalued, mispriced, and hidden gems in Fractional Investing.
Today is a deep dive into a 1999 Game Boy Pokemon Yellow WATA 9.6 A++ that will IPO on Rally 24th March 2021.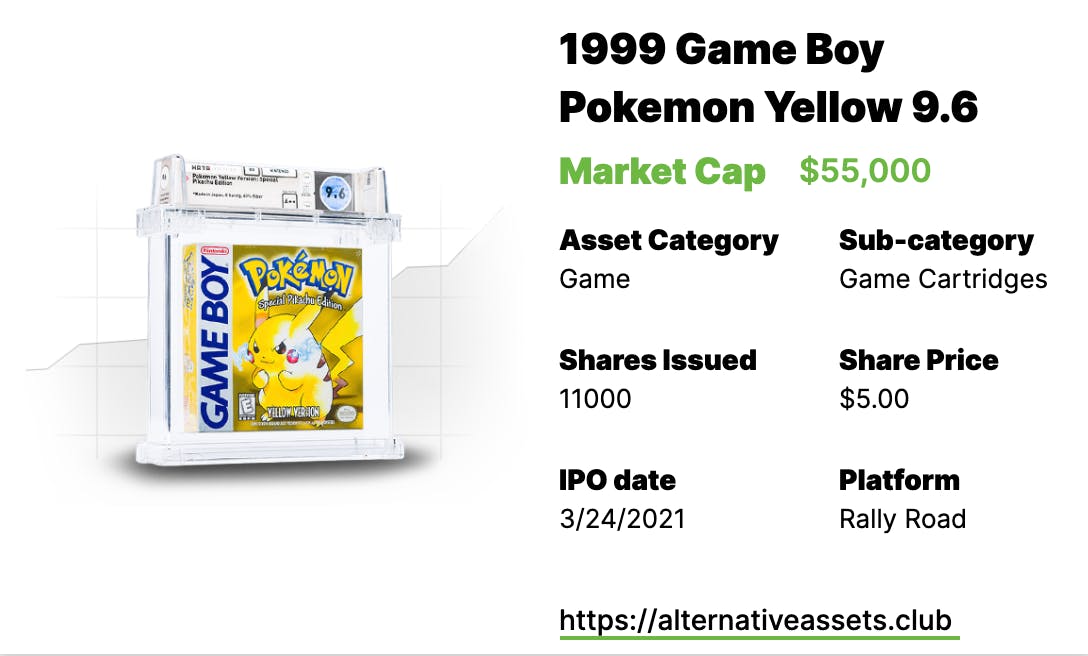 What is the 1999 Game Boy Pokemon Yellow WATA 9.6 A++?
In 1999, Pokemon Yellow, which features Pikachu on the cover, was the third Pokemon game released on Game Boy after Pokemon Red and Pokemon Blue. This particular copy is factory sealed and has been rated as a 9.6 A++ by WATA, the premier video game grading company.
It's worth familiarizing yourself with the WATA scale as the grade is the main driver of a video game's value. The first number represents the condition of the item (in this case, the unopened box) on a 10-point scale, with increments of .5 until 9, and then increments of .2 until 10. 9.6 is technically the 3rd highest grade though 10s don't really exist so it's functionally the second highest grade.
The second part of the grade is the seal grade – the condition of the factory seal. This scale goes from C to A++.
There is only one known copy of Pokemon Yellow that has been graded higher by WATA, and it IPO'd at Otis last month.
It IPOs on Rally Road at 12 PM EST on March 24th for $55,000.
Cultural Relevance
The Pokemon Game Boy games were a huge part of what spawned what is now a massive media empire. Released as a companion to Pokemon: The First Movie, Pokemon Yellow was an enormous success — blowing well past the initial estimates of 3 million unit sales, eventually selling over 14 million copies and becoming (at the time) the fastest selling handheld video game cartridge of all time.
The cover featured Pikachu, and the success of the game propelled Pikachu to becoming the most well-known of all Pokemon characters to the point where he is the global mascot for the entire Pokemon franchise. He is widely known for his appearances in the TV shows, movies, video games (both in Pokemon games and as a character in the wildly popular Super Smash Brothers series of games) and was even voiced by Ryan Reynolds in the 2019 Detective Pikachu movie, which somehow grossed $433 million worldwide.
Here's the cute fella in the Macy's Thanksgiving Day Parade:
Inferred Value – $30k to $65k
​[Detailed Analysis Available to Insiders only]
Category Strength
The video game category has returned 66% ROI so far across the entire portfolio.
Subcategory Strength
Risk Profile
Recent Growth Trend
Growth Outlook and Future Catalysts
The video game market is poised to continue breaking records, but only for the blue-chip, highly desirable items. Pokemon Yellow isn't a first tier asset, but it's close. Pikachu will always be at the forefront of the Pokemon media empire, and there's a Detective Pikachu sequel on its way eventually which could boost interest in Pikachu related items.
There is currently a 9.6 A+ version of the game (one subgrade worse on the seal) up for auction at Heritage. The hammer drops in nine days and because there have been so few sales, it is a hugely important data point. Based on the seal subgrade difference, I'd say if it sells for $40,000 or above, the 9.6 A++ version will be valued at $55,000 or above. If it sells for considerably less, then the 9.6 A++ IPO was overvalued.
At the same auction there are copies of Pokemon Red 9.6 A++ and 9.4 A++ on the block which will also be a good gauge of value. Too bad the auction didn't happen before the IPO!
Asset Liquidity
This will have a roughly 90 day lockup period then will trade quarterly.
Platform Risk
Intangibles
Everyone knows who Pikachu is, and though Pokemon Yellow isn't the earliest version of the game, it's certainly the most recognizable.
---
Due Diligence Service
If you're looking to make a big asset investment, we can help you perform due diligence. Stefan created and runs Flippa's Due Diligence program, and can offer the same service to you.
---
Subscription Options​​
Start your free trial of Insider.

Deep research and investment insights, now on thirteen alternative asset classes.
---