READ TIME: ±6 minutes
Hello and welcome to Alts Cafe for July 14, 2022.
This is everything you need to know about what's going on in the world of alternative assets. Best enjoyed with your morning coffee.
Let's go!
Pulse check: What's the overall market doing?
Markets are off slightly on low volume. Everyone's gone on vacation.
The dollar and euro reached parity for the first time in 20 years, which was kind of fun.
What are we doing?
Fractional Alts picks:
No changes here for now.
We acquired two Brit mod art pieces: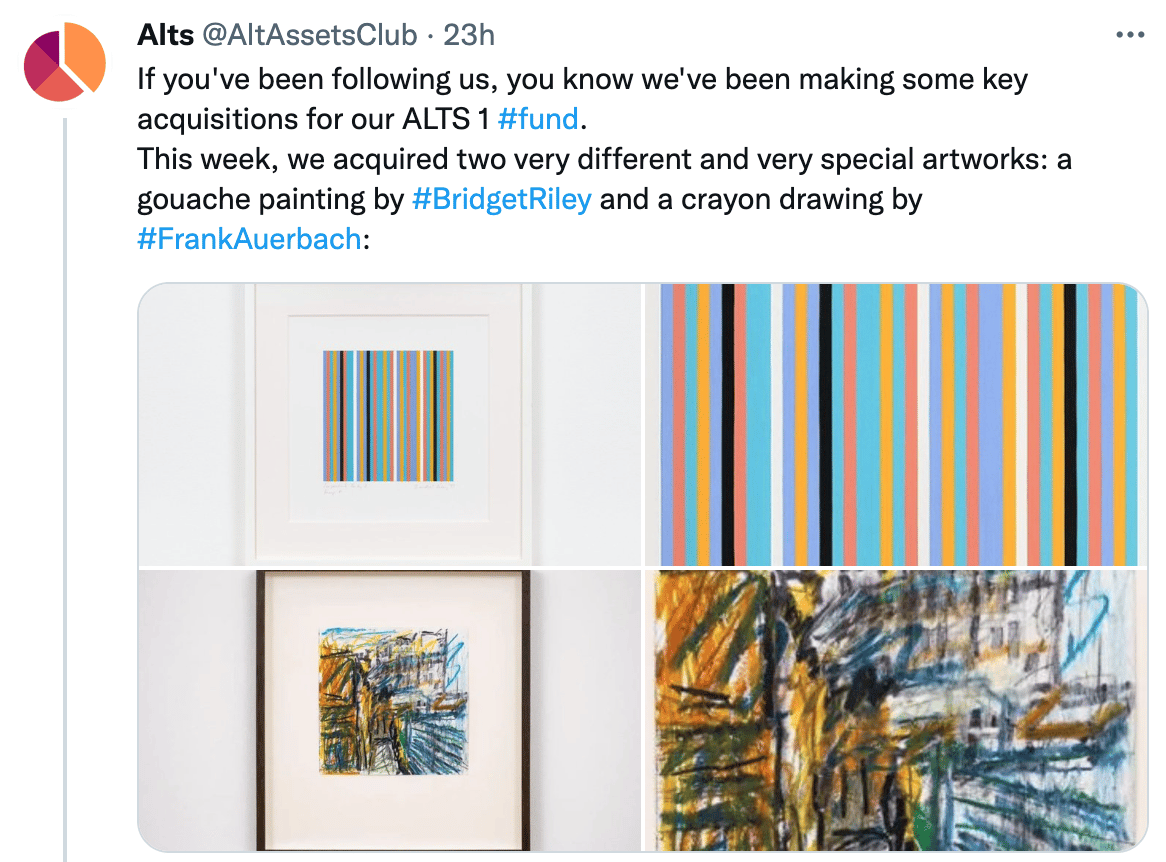 Stefan did a fantastic write-up covering both paintings.
Crypto
Here's what you need to know:
Bitcoin continues to hover around $20k on decent volume, and it all seems pretty stable at the moment.
While it's still near historic lows (very fearful), this is the highest we've seen the Fear and Greed index for a while.
Could be people are just getting bored of moaning about the price of crypto.
Bullish News
The United States reported inflation of 9.1%, the highest in 40 years. (YF)
That's it.
Bearish News
What to do with that info:
We're still on the sidelines.
Real Estate
Here's what you need to know:
Covid darling Austin, Texas is slumping hard. Supply on the market has more than doubled since April – from 1.3 months to 3.5. It's back to 2013 to 2018 levels now but is still miles off Great Recession figures of around seven months.
One interesting note about Austin specifically and Texas more generally is that it wasn't really a part of the housing run-up ahead of the Great Recession.
So while some markets (Florida in particular) that were hit hard back then sort of learned their lesson. It's in those areas that we're seeing cancellations below national averages.
What to do with that info:
It's going to be a funny real estate market for a while.
I'd stay away from single-family homes in the US, but second and third-order effects are still unclear (to me, at least).
NFTs
Here's what you need to know:
Our NFTs index is up slightly since last week, led by Fidenza, Punks, and The Currency (we bought two for ALTS 1).
VeeFriends led the way down.
This is all off the back of minuscule volume, though, so it's difficult to infer too much from market data.
Sales volume is the lowest in over a year, but it is ticking up ever so slightly since the beginning of July. The tea leaves feel like investors are starting to dip their toes back into blue chip projects.
That's reflected in our NFT index, which tracks some of the most notable projects. It's up just over 5% for the last 30 days.
What to do with that info:
Do you feel lucky, punk? If so, now may be the time to wade back in ever so gingerly. For us, though, we're only looking at projects with tangible utility and a proven roadmap.
Startups
Here's what you need to know:
GoPuff and Butler Hospitality each laid off more than 1,000 employees over the last week as the former sought out profitability and the other wound up operations entirely.
And things are going to get worse as dozens of zombie unicorns realise their current business models are unsustainable without massive follow-on equity rounds. Because those rounds ain't coming anytime soon.
A quick sampling of who's seeing rounds collapse this summer:
But there's hope! The first brave souls have begun to ring the "everything is on sale, so go deploy capital" bell. One swallow doesn't make a summer, but perhaps the startup world won't come to an end after all.
What to do with that info:
Many VCs are too busy keeping their existing portfolio companies alive to deploy new capital. If you've got the bandwidth and solid deal flow, this is a fantastic time to invest.
Quick hits
Wine & Spirits
Wine continues to steam ahead in 2022 with the Liv-Ex 1000 index up 11.1% on the year. It's led by Burgundy, which has advanced nearly 24% year to date.
Not to be outdone, whisky is up over 15% year to date.
Rum is also up around 5%.
Sports Cards
Things aren't as rosy for sports cards, which are down around 15% this year while volume is the lowest it's been since 2020.
According to CardLadder, every single sector was down for Q2, though the older stuff fared best.
Art
On the surface, at least, it was a fantastic season for art auctions.
A final tranche of 20th- and 21st-century works from the "peerless collection" formed by New York divorcees Harry and Linda Macklowe topped up the total to $922m, making this single-owner offering the "most valuable ever sold at auction," according to Sotheby's. Phillips's mixed-owner evening sale of modern and contemporary art racked up $225m, a record for the company. The previous week, Christie's had sold Andy Warhol's 1964 Shot Sage Blue Marilyn to Larry Gagosian for $195m, the highest auction price ever achieved for a 20th-century work.
But dig in a bit, and it's not as great, especially for artists who are white men:
The low estimate for Warhol's piece above was $200m. It went for $195m.
A Cy Twomby "blackboard" abstract, which was very similar to a piece from 2015 that sold for $70m didn't hit its $40m guarantee.
Francis Bacon's Study of Red Pope (1971) also had a $40m guarantee. It only achieved one bid beyond the guarantor.
There's a significant move toward BAME artists – the so called Red Chip set.
That's all for this week. Hope you enjoyed your coffee and this edition of Alts Cafe.
Cheers,
Wyatt