Today's issue is on classic cars. We're in the midst of putting together a massive report on this asset class. It's not finished yet, but we're giving you a sneak peek.
There's a saying here in Australia:
"In a recession, the first things to go are the Portseas and the Porsches."
Portsea is a wealthy beachside suburb, full of holiday homes and classic cars. During economic downturns, discretionary luxury spending usually takes a dive.
We're not actually in a recession, but the economy is still very weird, and it's definitely affecting this market.
So what we want to know is this:
What does the classic car market look like today?
Is now a good time to invest? and
Which subcategories are most compelling?
This issue is half-data and half-eye candy.
Let's roll
A golden moment for private credit?
As we know, the stock market has been volatile. But the Blackstones and Goldmans of the world are still earning great yields.
How? Well, many institutional investors are moving upstream into private credit, which offers higher interest rates and is less exposed to public markets.
Sure, that's great for institutions. But what about regular investors? That's why Percent exists.
Percent is the only platform exclusively dedicated to private credit. Their private credit investments are shorter term and priced at prevailing rates, making them more responsive to current market conditions and the macro credit and interest rate environment. With shorter-term investments, you can regularly calibrate your investments to meet your portfolio needs.
Percent provides accredited investors access to high-yield, short-duration (9-month average) offerings. Get up to 20% APY with investment minimums as low as $500. (Alts readers can earn up to a $500 bonus with their first investment)
Private credit is attractive because it can offer yield and flexibility.
Choose private credit through Percent.
How do you define classic cars?
In the short term, cars are one of the single worst investments you can make.
The moment you drive a car off the lot, it begins depreciating. On average, a new car can lose up to 30% of its value in its first year. (And luxury cars depreciate faster than mainstream models.)
The only consumer good with higher depreciation is video games (which lose 50% to 75% within the first year of release).
But over the long term, a funny thing happens. About 25 years later, that dynamic flips. Cars can start gaining value.
Well, not all of them. Nobody wants your '96 Toyota Camry (even though those things last forever!)
And a vehicle doesn't necessarily have to be old to be considered a "classic car". For example, 90s Japanese sports cars (like the Nissan Skyline GT-R and the Mazda RX7) are quietly becoming classics. Big demand in America and Australia.
But generally, there are a few things collectors care about:
Historical significance. This is particularly relevant for vintage cars, or those made before World War II.
Unique design. All cars today look the same. What makes a design unique? You know it when you see it. More personality. More definition. Chrome headlights and bumpers. Big bad hood ornaments. Wood trimmings.
Limited production. Older cars often had much smaller manufacturing runs. Only 2,000 Shelby GTs were released in 1967 (the first production year.) Compare that to Tesla, who is producing 100x as many Cybertrucks.
The history of classic car investing
The most fundamental categories for this market are pre-war and post-war.
Pre-war
Classic car investing started in the early 20th century, a few decades after the first mass-produced car hit the road — the 1901 Curved Dash Oldsmobile.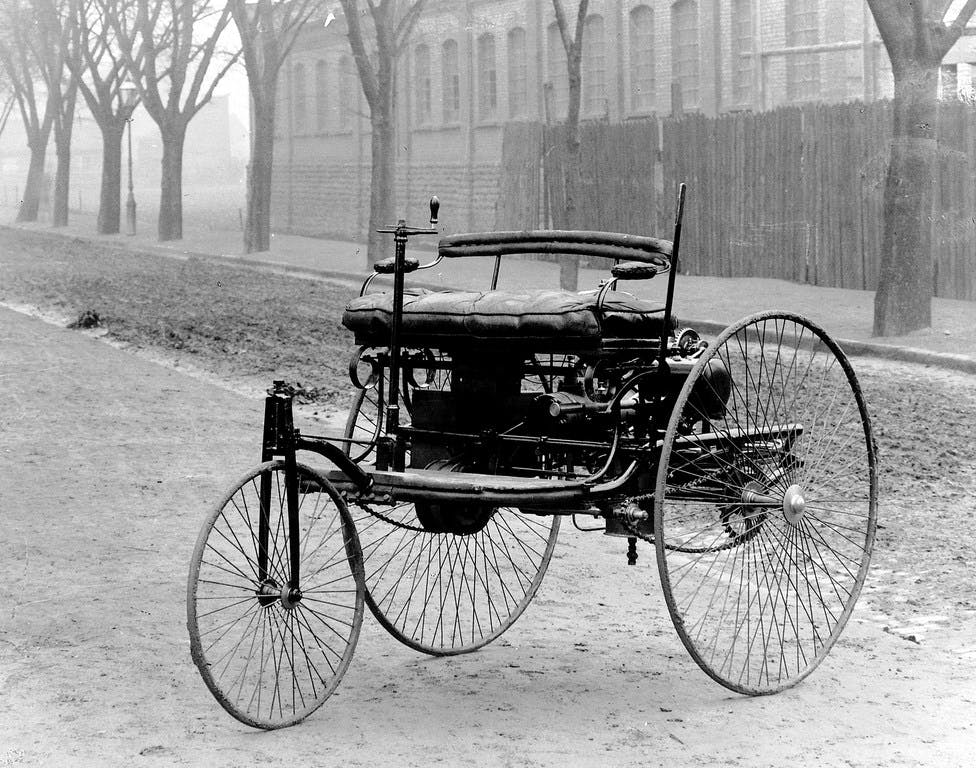 The market started to gain traction in the 30s and 40s, thanks to high-profile collectors like Briggs Cunningham and Ralph Stein — two guys who held some of the first automobile races.
Once WWII kicked off, the government banned the sale of consumer vehicles, and older cars rapidly became worthless. Car manufacturers were forced to create…shitloads of Jeeps.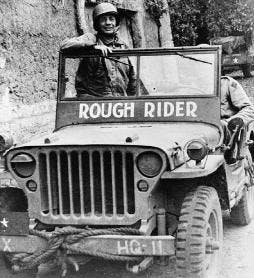 Post-war
After the war, classic car investing started showing off its horsepower.
The Baby Boomer generation came of age, forgot about the war, and began to accumulate wealth.
This period is also when the big auction houses came to life. Bonhams in 1956, Christie's in 1963, and Sotheby's in 1964.
The appetite for classic cars was growing. In 1971, a Bugatti Type 57SC Atlantic was sold at a Christie's auction for a then world-record $59,000, or about ~$750k today.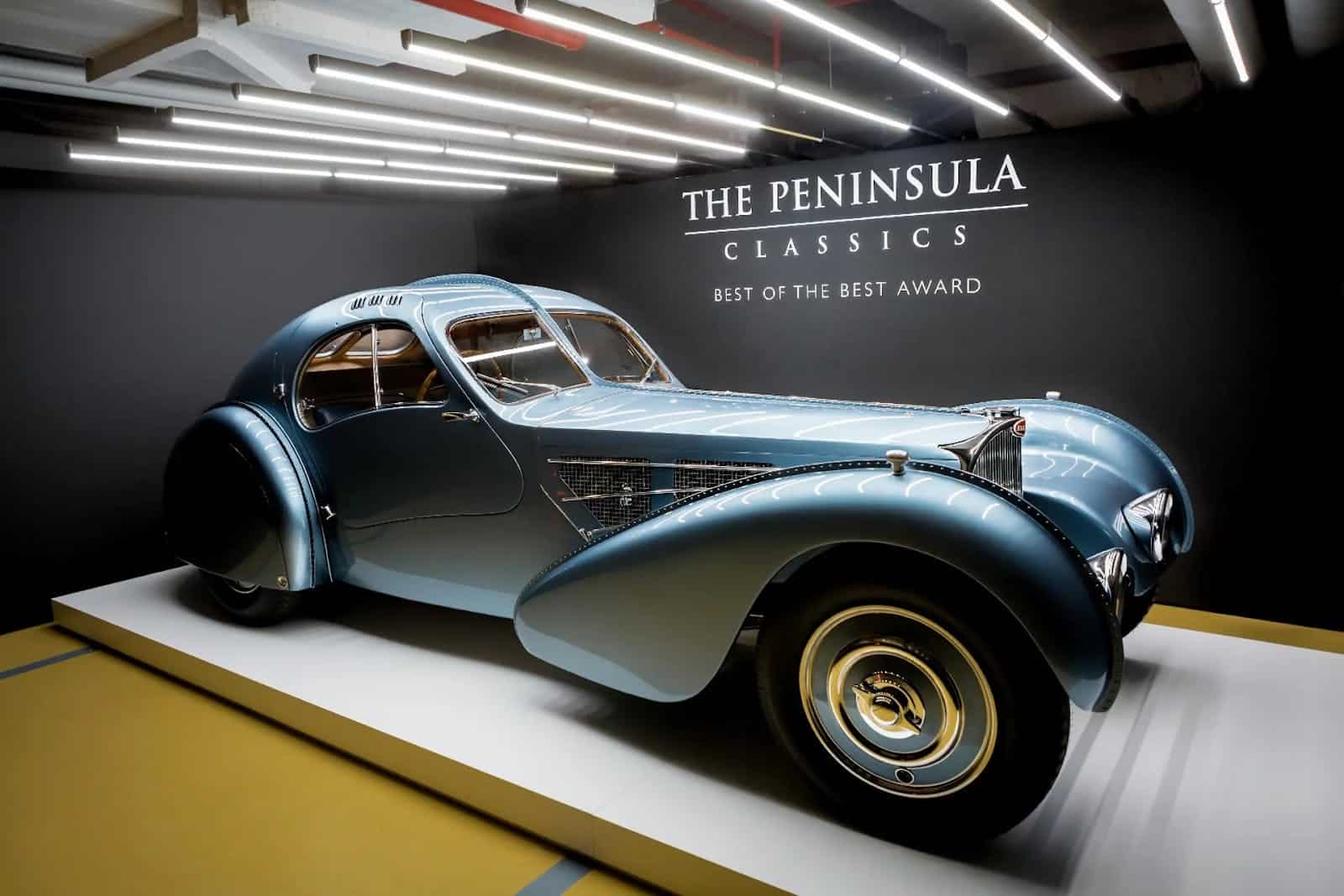 Cars from the 50s and 60s took a while to become "classics", but ended up kickstarting the modern era of car collecting.
How's the classic car market doing today?
Lots of alternative assets suffer from a lack of data. (This is what inspired us to create proprietary indices for vinyl records, tequila, and concert posters).
But cars are not one of them. There are several reliable indices track the price of classic cars. Before we get into the weeds though, let's look at the market more broadly.
We've talked about the Knight Frank Luxury Investment Index in the past. In their most recent 2023 report (which you should totally download, by the way) they reported that over the past year, vintage cars rose 25%.
This is the second-highest growth of any luxury asset over the past 12 months, just behind fine art.
The report also notes that classic cars are one of the more volatile alternative assets. It's ranked alongside startups, which aren't exactly known for their stability.
HAGI is another well-known index. This HAGI graph shows that classic cars outperformed other major collectibles & indices during the recession of 2008 – 2010.
According to this analysis, only gold outperformed:
But as early as 2014, there were signs of trouble (if you knew where to look)
And to get a sense of what's happening, we'll focus on some recent data from Hagerty.
Hagerty splits the market into 7 distinct categories:
1950s American
British Cars (yeah baby)
Ferrari (gets its own category!)
Blue-Chip (mostly Ferraris)
Affordable Classics
German Collectibles (sehr gut)
Muscle Cars
All indices utilize auction sales data to inform their charts. But Hagerty also has something called the Hagerty Market Rating.
This is forward-looking index uses a weighted algorithm to measure the current status of the collector car market in terms of activity, directional momentum, and strength.
As you can see, speculation peaked in 2015. We've been on a general downward trend that was only saved by covid, which gave the industry a much-needed boost.
But since mid-2022, prices have fallen alongside the broader downturn in equities.
Now, when you have a falling market, blue-chip assets typically hold their value better.
So let's look at Blue-Chip only:
Interesting. Blue-chip classic cars peaked in 2015, experienced a delayed 2020 covid bump, and have remained relatively stable since. There is clearly still steam in the high end of the market.
Next, let's take a look at Affordable Classics.
The Hagerty Price Guide Index of Affordable Classics is a stock market style index that averages the values of 12 cars priced under $40,000 from the 1950s-1970s. This is the world of Studebakers, Volkswagen Beetles, and Camaros.
Here's the chart:
Whoa, nice rise! These cars were worth $20k in 2007 and are now up to $60k — an 18.8% annualized rate of return.
And while most indices are still below their 2015 peaks, affordable classic prices kept driving upward during covid, and are actually driving most of the market's post-covid growth.
However, there has been no appreciable movement for the past year. Since affordable classics are the logical entry point for first-time investors, this chart shows how much the market has expanded since covid.
Another bright spot is Muscle Cars. This list includes mid-late 60s gems, including Shelbys, Impalas, and of course, Mustangs.
Muscle cars are the only other subcategory to surpass the 2015 peaks. And they're the only subclass to show growth since 2023.
Shift gears for a minute:
What the heck is Quantum Computing?
You're gonna hear this term a lot in the future.
All you really need to know is that quantum computers are much faster. They have the potential to solve complex problems that are impossible for regular computers.
The potential applications are huge, especially in healthcare. Quantum computing will speed up drug discovery, model viruses, and reduce costs.
But there's a problem: The adoption is complicated. There aren't enough engineers who know how to put all the lego blocks together.
Ingenii is solving this. They're a data engineering and analytics platform that's quantum-enabled. It includes everything a data scientist needs, while hiding away all the tough stuff (so engineers can actually use it.)
In a nutshell, Ingenii increases the adoption of quantum engineering.
CEO Christine Johnson kicked things off with a $115k investment round last year led by Whiteshark Management. They're accepting investments right now on Republic.
Healthcare is just the beginning. They have future opportunities to scale into biotech, manufacturing, agriculture, energy
But it all starts with this fundraise. Invest in Ingenii while you can.
How to invest in classic cars
Auction houses
Sotheby's has been the king of classic car auction houses for some time.
Seven of the top 10 most expensive classic cars sold at auction in 2022 were sold via Sotheby's .
In fact Sotheby's sold $925m worth of vehicles at auction last year. Of particular note was the sale of an ultra-rare 1955 Mercedes-Benz 300 SLR, which fetched a ludicrous $143m.
Gooding and Co are the other major auction house for classic cars. They were responsible for auctioning off the remaining three most expensive cars sold in 2022.
So far, auction data indicates 2023 is outperforming 2022.
Listings are up 15%
Sales are up 6%
Dollar volume is up 3%
Top sale is up 34%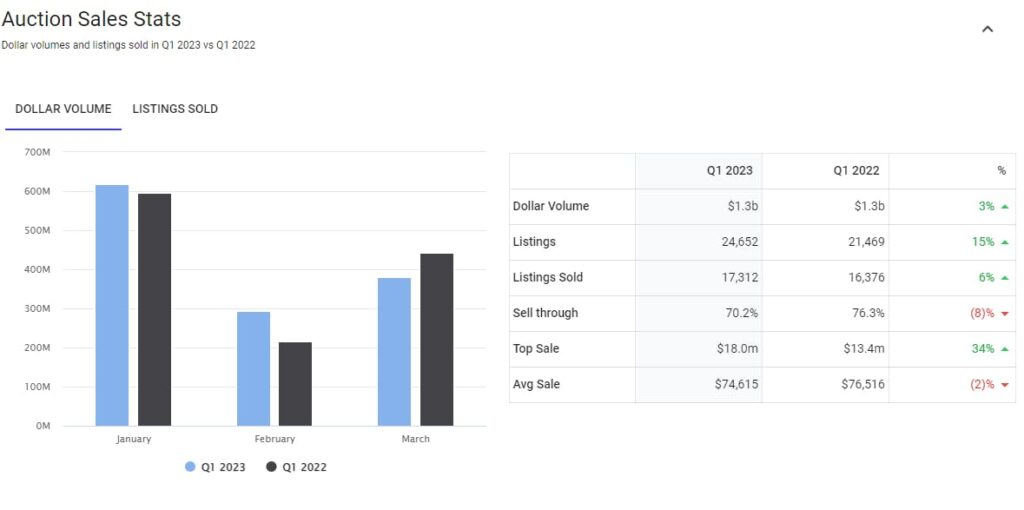 Live events
Classic car buffs love to attend prestigious events around the world.
Perhaps the biggest so far in 2023 has been the Amelia Island Auctions, held last month on a beautiful island on the Florida/Georgia border. The 28th annual event saw 25,000 fans invade the island for a 2-day show at the Ritz-Carlton.
The auctions raked in just shy of $73m. 95% of the 155 cars found a buyer, and 15 individual lots fetched prices over $1m.
Barrett-Jackson's annual car auctions are held multiple times per year. They recently held a gathering in Palm Beach, Florida, and have another one coming up this June in Las Vegas.
Platforms and funds
Investors aren't just restricted to auctions. Fractionalization marketplaces offer investors a slice of classic cars.
One of my favorite cars that Rally has IPOd is this striking 1989 Ferrari Testarossa. Each of the 4,000 available shares was valued at $45, with an initial market cap of $180,000. Eventually, the vehicle was sold for $330,000 – a nice 1.8x return for investors.
The Classic Car Fund was a hedge fund that targeted 8-12% annual returns by investing in vintage cars. However, these guys collapsed in 2021 and are currently under investigation by Swiss Intel for overpricing cars, ownership disputes and major losses for investors.
The Hetica Klassic Fund seems to be on better footing. This €50m closed-end fund is comprised of 20+ vehicles that are at least 30 years old. It has a five year duration and annual targets of 9-12% (though unlike the offerings on Rally, it's only available to accredited investors.
What are the brands that matter?
In today's classic car market, there are basically three brands that matter most. Mercedes-Benz, Porsche, and the biggest player of them all, Ferrari.
According to Classic Car Auction Yearbook author, Ferraris are "absolutely the blue-chips of the sector."
In 2022, Ferrari sold a record-breaking 13,221 cars (all cars, no trucks or SUVs). This is 18.5% higher than in 2021
At auctions in 2021-22, Ferraris had an average sale price of $589,000. This was followed by Mercedes-Benz ($378,000) and Porsches ($348,000).
In Q4 2022, Porsche ($129.9m) actually outsold Ferrari ($103.6m) in terms of dollar volume. But nearly 1,000 more Porsches went up for auction.
Future trends
You may be wondering, what cars today are most likely to go up in value?
Well, remember the 25-year rule. Popular sports cars from the 90s are already starting to make their move.
First-generation Dodge Vipers can still be found for less than $50k, but many are already selling for $70k+.
As for recent models, you still need to stick with luxury brands (Ferrari, Porsche and Mercedes) and fun, unique sports models. A 2020 Ford Mustang GT350 (retailing for $60k), or a 2021 Lexus LS500 ($100k+) might be solid options.
Emerging markets
Luxury cars are accelerating in emerging markets. Vroom vroom baby.
While Ferraris are still mostly a developed country phenomenon (US, Germany, the UK and Italy), sales in China, Hong Kong and Taiwan are up 73% YoY.
Porsche in particular has been posting strong gains in developing regions outside of China. The company saw a 13% rise in emerging market sales between 2021 and 2022, even while sales fell in China.
In this fantastic 2018 report from the INSEEC School of Business & Economics, Author Eric Le Fur had some blunt findings showing how important emerging markets are to this whole industry:
More generally, developed markets have no influence on the price of classic cars (!)
By contrast, the Asia, Far East and Pacific regions play a major role in the price fluctuations of classic cars — notably, China, India, Hong Kong, Korea and Singapore.
The Asian, European and Far East regions influence Porsche prices, while developed markets mainly influence Ferrari prices.
The uncertainty of Chinese policy poses a risk for the classic car market.
Closing thoughts
Classic cars are a lot like fine wine. It's no coincidence these two asset classes have similar 10-year returns (185% for cars, and 162% for wine).
Only so many are produced, and over time the number in circulation reduces. Wines get drunk, and classic cars rust away. In both the long run, and against a backdrop of high inflation, classic cars can be one of the most compelling alternatives out there.
The problem is, it's tough to say exactly where we are in this current cycle. The Hagerty Market Rating has finally reversed its downward trend, increasing 0.2 points in April and ending a 6 month streak of decreases.
Strong auctions at Amelia and other recent shows indicate we may be turning a corner. Several sales records were broken, boding well for classic car values for the year ahead.
However, experts believe this is still a "flat market." If you're considering jumping in, you may want to wait until the Hagerty Market Rating shows a few more months of growth.
If you do invest, be smart about it. This is a volatile asset class, and now may not be the time to take a chance on riskier subcategories. Stick with Affordable Classics and Muscle Cars. You can find low-range classic cars for under $50k (1994 Dodge Viper, anyone?)
And don't forget about Asia. The US and Europe have driven classic car investment for the past century, but emerging markets in Asia are bringing the real party.
Be safe, and be smart. Don't drink and bid! 🏎️
(Unless you're Jay Leno, who can afford to buy the freaking Batmobile.)
Disclosures
Our ALTS 1 Fund has no classic car holdings, or holdings in any funds or companies mentioned in this issue
There are no affiliate links in this issue