Welcome to Cultural Assets Insider – FREE Version.
We use Moneyball tactics to discover undervalued, mispriced, and hidden gems in Fractional Investing.
---
Survey
We're tossing some ideas around. Take this quick survey and let us know what you think (1 min).
---
Cultural assets performance 2021
This collection of asset classes has moved countercyclically to sports cards and in tandem, more or less, with comics, art, and video games. It seems to have cooled off for now, but this Friday's IPO of a mouthful of megalodon teeth could give us an indication of the category's strength.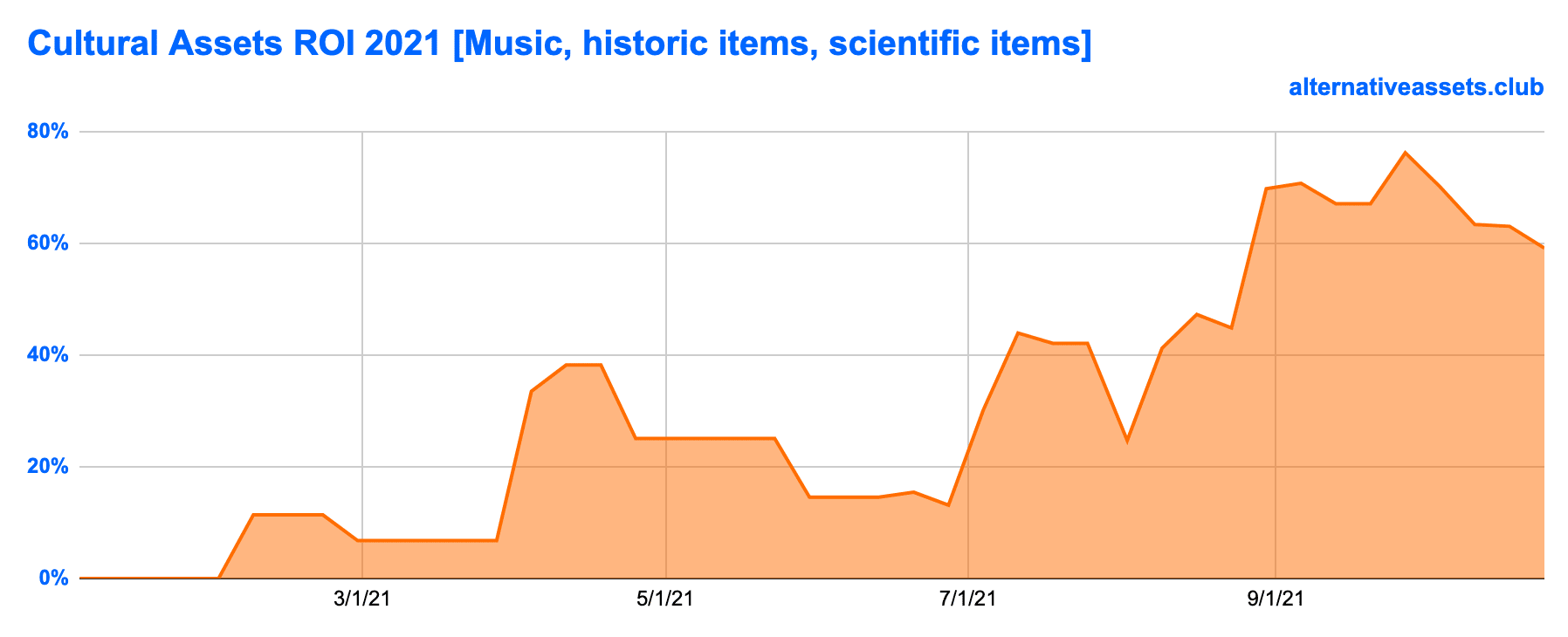 Last week's performance
Fractional secondary markets
Toys led the way last week with Optimus Prime and Darth Vader classics up 15% and 75%, respectively, on Otis. Also on Otis, a sealed iPhone was off 10%.
This Week
New IPOs
One new IPO this week, with Rally setting loose a mouthful of 184 razor-sharp Megalodon teeth mounted in a resin jaw replica. Undoubtedly a cool item.
Market Cap: $600k
Inferred Value: $400k (questions about this? let's chat in the discord)
Channel: Rally
Date: 10/29/2021
Recommendation: [Insiders Only]
Secondary markets
Two positive auctions last week demonstrated strength in the collectable toys asset class. A sealed Optimus Prime sold for $16k, which is around a 60% advance on just a couple of months ago. Similarly, a sealed Darth Vader graded AFA 70+ sold for $3,500, which is 3x to 4x recent results. Both corresponding assets traded up on the Otis secondary markets, but look for each to continue climbing higher – they're both still well under FMV.
At Auction
Heritage are auctioning off a number of geeky vintage Hollywood items, including a phaser rifle from William Shatner's debut on Star Trek. Current price is $300k+ for this trekkie treasure. Martian death rays are significantly less expensive.
You can also pick up a Shatner-signed tunic from the series's third season. Perhaps you can wear it while firing off your phaser rifle?
If Battlestar Galactica is more your riff, you can pick up a full Cylon costume from the 1978-79 season.
On a more serious note, a classic 1966 Grateful Dead concert poster graded 9.2 is up for auction as well. It sold a year ago for over $50k. We'll keep an eye on this to get a feel for the overall concert poster market. Along with toys and possibly vinyl, vintage posters have all the makings of a breakout asset class.
What's next
Keeping an eye on that vintage music poster auction this week and digging through the closet to see if that 1996 Smashing Pumpkins piece is in decent nick.