There's an evergreen sport that's extremely popular, and extremely under-discussed.
While US readers have heard of it, they've likely never watched it or played it. And big American dollars are starting to flow into it, so it's time we started to understand cricket 🏏
Let's go! 👇
Why I love cricket
Okay look, I'll be honest, a lot of people find cricket boring, and at first glance…it kind of is.
Cricket isn't a fast-paced sport. It's a long, slow grind that tests your patience. Games can take days to complete, and lulls can last hours.
But it takes just one mistake. One momentary lapse in concentration. One slip-up, and BOOM.
Suddenly, the whole game gets turned on its head.
See, cricket is all about tension. It's like winding up the world's largest corkscrew for minutes, hours, and days. Every single moment counts, no matter how small. Victory often comes down to the last hour of the fifth day, where it's anyone's game. The smallest instant can overturn everything.
Think of it like a 5-day long arm wrestle — the tension builds until, eventually, it erupts in glory for one team. It's in these long periods of intensity that the legends of cricket are born.
That's what gives you chills.
What is cricket?
It's easy to get lost in the weeds of cricket's rules. But at a high level the game is pretty easy to understand. In many ways it's similar to baseball (although cricket was invented much earlier).
Cricket is played between two teams on a huge oval field called, err, an oval. One team "bowls" by slinging a dense, heavy, hard leather-bound ball towards the other — the batting team.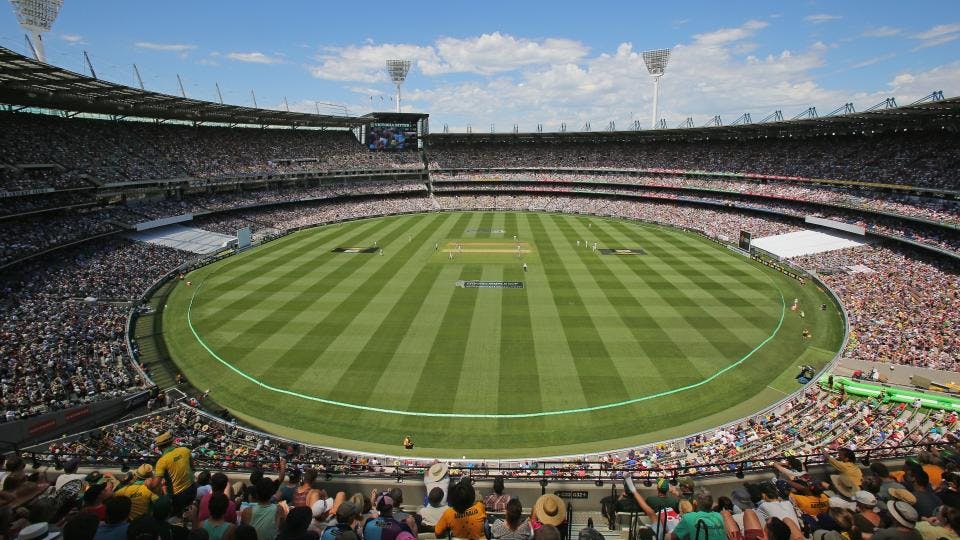 The batting team aims is to hit the ball and score by running between two stumps (small wooden poles) 22 yards apart. Each score is known as a "run".
The bowling team's objective is to get ten wickets. Think of a wicket like a baseball strikeout, except once a batter is out, they cannot come back.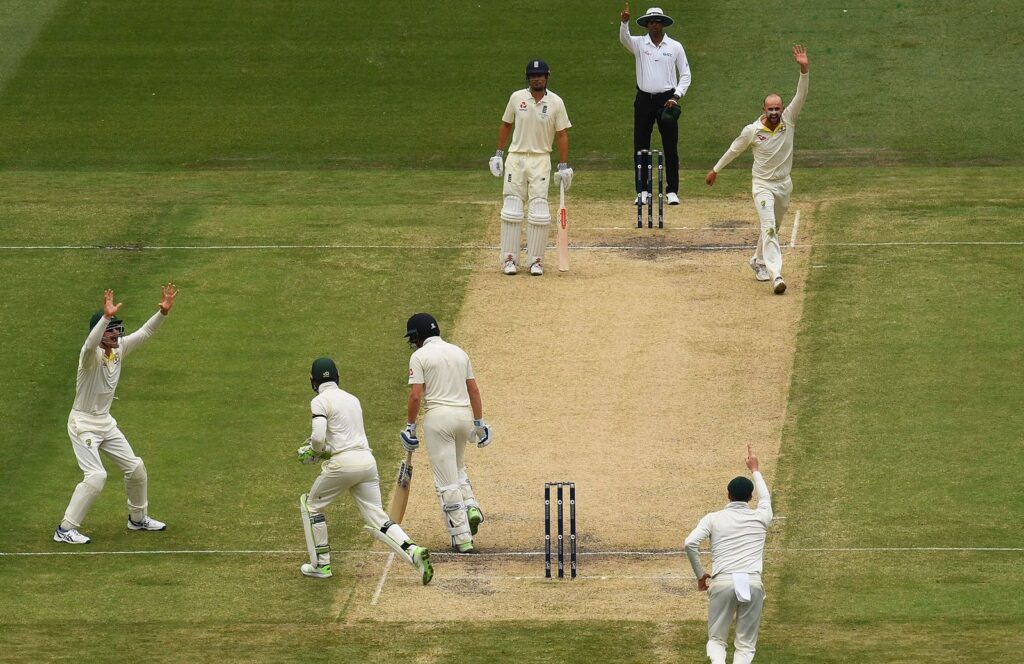 Once all ten batters are out, the batting and fielding teams swap. After both teams have batted and bowled, the team with the highest score wins. (There are loads of different ways a cricket game can end, but let's keep things simple for now.)
One thing you need to know about cricket is that the ball moves very fast. Speeds of 95+ mph are typical, and batters get beaned all the time — including smack in the head — which is why they wear so much protection.
But get this: only one fielder can wear gloves. Everyone else has to handle the ball with their bare hands. This is why broken fingers, ribs, and even concussions are an unfortunate but common part of the game.
Baseball vs cricket
Think of cricket as an older, slower, more hardcore version of baseball. Here's how they differ:
Rules of cricket
There are 42 official Laws of cricket. (Of course they're called Laws, not rules. Classic Brits.)
Here's a taste:
Bowlers cannot bend their elbows when bowling. It's an awkward but powerful throw.
Each bowler bowls what's known as an over, comprising of six balls (i.e. pitches). Once all six are completed, that bowler gets swapped out.
If the batsmen hits a ball that bounces all the way to the fence, it's an automatic four runs. But if they hit it over the fence, like a home run, it's worth six.
There are ten ways a batsman can get out (compared to three in baseball). Hitting a ball and getting caught on the full is the most common, but there are more ridiculous scenarios, like these here:
Cricket has fully embraced technology, especially Hawk-Eye ball tracking. The technology, created by cricket fan Paul Hawkins, is now used in tennis, rugby and half a dozen other pro sports. It makes cricket far less reliant on umpires than baseball.
Different formats of cricket
There are three forms of cricket:
Test cricket. The original form of cricket, still regarded as the best by purists. Each team bats and bowls twice over five days. A "test match" ends once both teams get 20 wickets. If that doesn't happen within 5 days, it's a draw.
One-Day cricket. A product intended for TV in the 70s. Each team only bats and bowls once for up to 50 overs.
T20 cricket. The newest form of cricket, T20 targets younger generations with shorter attention spans. It's fast-paced and action-packed, as each team bats for just 20 overs.
History of cricket
Cricket was invented in southeast England way back in 1611 — a whopping 412 years ago — making it one of the oldest team sports in the world.
It evolved into a professional sport in the early 1700s. As British settlers began to spread throughout the colonies, so did cricket. The British East India Company is believed to have introduced cricket to India, while the game also spread to Australia, New Zealand, South Africa, West Indies, and Pakistan.
In the 1800s, the sport grew in popularity throughout the colonies. The first official international fixture was played in 1844 between Canada and the USA (?!) pre-dating the first football, baseball, and ice hockey internationals by nearly two decades.
Who plays cricket today?
Britain did one heck of a job exporting cricket to their colonies. Today, cricket is played by basically all of the Commonwealth Nations. But the "big three" powerhouses are: 🏴󠁧󠁢󠁥󠁮󠁧󠁿 England, 🇮🇳 India, and 🇦🇺 Australia.
Other notable teams include Pakistan, South Africa, New Zealand, Sri Lanka, and the West Indies (one team consisting of players from various English-speaking Caribbean nations)
Few seem to realize that the United States also has a team! (Men's and Women's)
That's right, the US Men's cricket team has played 114 games, with their most recent game being a loss to Namibia last November.
They're currently ranked 18th out of 20 in the world, which is…not fantastic. But give it time.
Who are the best cricket players of all time?
Sir Donald Bradman
Sir Donald Bradman is almost unanimously regarded as cricket's GOAT. He has streets in Australia named after him. And his original cricket cap sold at auction in 2020 for $450k.
Why the fanfare? His batting average was 99.94. This means he was likely to score 99.94 runs every time he took the field. To put this in perspective, the next highest average is 61.87. This is truly one of the single most amazing sports statistics in human history.
Sachin Tendulkar
Sachin Tendulkar, affectionately known as the "Little Master," is one of the most-revered cricket players of all time. The Indian batsman has scored more runs than anyone else in both Test and One-Day cricket.
His celebrity status and business acumen have helped him accrue a post-career net worth of $150m, making him the richest cricketer of all time.
Shane Warne
Aussie legend Shane Warne is considered one of the greatest bowlers of all time.
Known as the "King of Spin", Warne wasn't the fastest bowler, but he was able to put a ridiculous amount of spin on the ball — something that's very tough to do since a cricket ball doesn't have stitching.
He reached 700 Test wickets faster than anyone else and holds a myriad of records. Warne's post-retirement career saw him become a commentator, author, philanthropist, and investor.
Who watches cricket?
Cricket is popular in basically all Commonwealth nations, but the biggest fish is India.
90% of Indians watch cricket – an astounding 1.2 billion people. This is more than the entire population of Europe.
It's astounding to me that sports like Pickleball get as much attention as they do, when Cricket is literally the most popular sport in the world after soccer. (The full list may surprise you)
The raw numbers are just incredible. For example: India's most popular current player, Virat Kohli, has nearly double the Instagram followers of Lebron James.
Major cricket events
Boxing Day Test Match
Boxing Day is a big deal in Commonwealth countries, and doubly so in Australia, when 100k fans flock to the MCG to bake in the summer sun for the Boxing Day Test Match.
I was lucky enough to go this year — and boy, it's a sight to behold. Towers made of empty beer cups, security guards snatching beach balls, and uhh, less-than-polite chants.
Cricket World Cup
Shorter forms of cricket have a World Cup, where the best 16 teams come together in a knockout tournament.
Australia is the most successful One Day team, with four titles. England and West Indies are tied for the most T20 World Cup championships, with two apiece.
The Ashes
The Ashes is a recurring 5-match Test series between Australia and England.
The name originated a century ago when the Aussies won their first-ever game on English soil, and an enraged fan submitted a fake obituary to The Sporting Times, stating that English cricket had died and its ashes were taken to Australia.
Where is the money in cricket?
It's basically impossible to invest in international teams.
However, there are investment opportunities in domestic leagues. And when it comes to domestic leagues, there's only one that really matters:
The Indian Premier League
The Indian Premier League (IPL) is a T20 (short attention-span) league based in India.
It's not historic — the league was only created in 2009. But their broadcast rights are already the second-most valuable of any sports league, behind only the NFL!
Here's where it gets interesting: There are currently 10 participating teams, and all of them are privately owned.
Most valuable IPL franchises
Since inception, the league's total value has tripled to $11 billion, with seven franchises valued over a billion dollars.
Basically, over the past 14 years, the India Premier League has created 7 unicorns you've probably never heard of.
This is an average yearly growth of 24% since 2009, meaning IPL teams have outperformed the average NBA and NFL teams over the same timeframe.
Topping the list is the Mumbai Indians, who are worth $1.3 billion: more than six MLB teams combined.
The five-time champions are owned by Indian multi-national conglomerate Reliance Industries, who purchased the team during the league launch for just $112m.
Next in line is the Chennai Super Kings, with a valuation of $1.15b. Just behind them is the only billion-dollar franchise to be owned by individual investors – the Kolkata Knight Riders.
Women's IPL
Cricket is actually one of the most inclusive sports in the world. Its women's leagues are far more developed than many others, and ticket sales have consistently increased since 2012.
Just this week, the point was hammered home as the Women's IPL (WIPL) league secured their new broadcast deal. Media rights were purchased for the next five years by Viacom for about $116m making WIPL the second-most expensive cricket league (after Men's IPL)
Domestic leagues in other countries
The IPL's success has seen other countries create their own new domestic T20 leagues.
The Bangladesh Premier League was formed in 2012 and has since spawned other popular leagues such as the Afghanistan Premier League and the Pakistan Super League.
In fact, the richest IPL teams have started to branch out and buy international T20 teams around the world. In fact, all six franchises in South Africa's newly-created league are at least partly owned by IPL teams!
The internationalization of cricket has been a huge success, and it doesn't look like it will slow down anytime soon. But this "international sports colonization" is unexpected, and doesn't really have any parallels in other sports. 👀
Who's investing in cricket?
As we've said before, sports teams are basically the ultimate alternative investment. And from its outset, the IPL was a terrific one.
The league's founder and director, Lalit Modi, almost immediately secured a $900m 10-year broadcast deal with Sony — giving investors a secure and lucrative revenue stream. Paired with India's absurdly high cricket viewership (In 2021, viewership topped 650 million individual viewers!) The IPL is set up to rake it in for decades to come.
The league is growing rapidly, and now the Americans are getting involved.
In 2021, The IPL brought two new teams into the fray. One of these teams is the Gujarat Titans. That year, American PE firm CVC Capital bought a majority stake in this team for $750m. Incredibly, the club won the IPL title in their very first season! This made CVC's venture a success far earlier than anyone could have expected.
Another American PE firm, RedBird Capital, followed suit and purchased a 16% stake in the Rajasthan Royals, worth $200m. Guess which team the Gujarat Titans beat in the IPL's grand finale?
Yep – it was the Royals. The two American PE-backed teams faced off in the finals in their first season.
US Men's Cricket may not be doing too well, but American private equity is killing it so far!
Will cricket ever take off in the US?
Because of the similarities to baseball, it's easy to be skeptical that cricket will ever make a splash in the US. I mean really, how many "ball & stick" sports can a country have?
But one thing's for sure: It's on the verge of getting a big boost.
The American Cricket Board recently introduced Major League Cricket (MLC): a six-team competition taking place over three weeks in Texas.
The league is funded by American Cricket Enterprises, which made a $1b investment. The inaugural season will be played later this year from July 13-30. If you live in Texas, I definitely recommend heading on down for the action.
Oh, and in even bigger news, the US is co-hosting the 2024 T20 World Cup (alongside the West Indies). America being home to one of cricket's biggest international events is a massive step forward for the nation.
Going forward, an IPL franchise is likely to continue being an excellent investment. A major reason why is due to the league's economic model. About 80% of each team's revenue comes from media rights deals negotiated by the BCCI. Only about 20% of income comes from performance-based metrics, like ticket sales and merchandising. (This is also why the difference in team valuations is so narrow).
Therefore, revenue generated by the league as a whole, rather than individual teams, is integral to valuation. And central revenue appears set to increase, with media rights deals only becoming more lucrative.
Expect international investment in IPL franchise teams to continue throughout the decade.
Closing thoughts
Cricket's not for everyone. Some find the game's lack of action and stop-start nature like watching paint dry.
But to fans, that's all part of cricket's charm. Moments that seem uneventful to the untrained eye are actually like tense chess matches, where one false move could be the team's undoing.
Love it, hate it, one thing's for sure — there's a crapload of money pouring into the sport.
Americans – if you've never watched a game, give it a chance. It's coming to your shores soon.
You might just like it. The sport can be nuts.
Disclosures
None of the authors have direct financial interests in any assets or investment opportunities mentioned in this issue.
We don't own any shares of any IPL franchise in our ALTS 1 Fund (we wish!)
This issue may contain affiliate links. This means we may collect a share of sales or other compensation if you purchase something through these links.