Welcome to Cultural Assets Insider for 2nd February 2022 – FREE issue.
Each week we give you the scoop on undervalued, mispriced and hidden gems in Alternative Investing.
Cultural Assets performance 2022
Cultural assets on fractional marketplaces are back above water for 2022 after a slow start to the year. It'll be tough to replicate 2021's success, but some of our most bullish sectors are in the cultural assets class. What this space.
Last Week in Cultural Assets
Fractional secondary markets
Toys and historic items led the way last week as paintings did their best to drag the index down.
Auctions
Last week, Bonham's closed out several niche auctions with wide appeal.
Perhaps not one for blue-chip investments, but the auction house's 'Visions of Nigeria' photography contest in Lagos drew bids from around the world. Many of the stunning pieces sold for less than $200.
The personal library of former US Justice Ruth Bader Ginsburg was also on the block. Her annotated copy of the 1957-58 Harvard Law Review topped six figures when it hammered at $100,312.50. Her copy of her collected writings, My Own Words, sold for $81k. IMO, the latter is probably the better long-term investment.
Sotheby's kicked off its Masters' collections with three auctions closing last week:
The results…weren't great.
While some lots blew through expectations, a great many either pegged in the lower range of estimates or didn't hit reserve at all. This includes the biggest-ticket item at the European Art Sale, 'Jeune bergère debout' by French academic painter William-Adolphe Bouguereau. Sotheby's put its estimate between $800k to $1.2m, and the lot didn't sell.
This could be bad news for "L'empire des lumieres" by surrealist Rene Magritte, which is set for a $60m price tag at Sotheby's 2nd March.
This Week in Cultural Assets
Fractional IPOs
Just the one fractional IPO this week.
Market Cap: $225k
Inferred Value: $180k
Drop Details: 2/2/22 on Rally
Our view: [INSIDERS ONLY]
Secondary Markets
Three new assets trading this week on Rally. The signed copy of the Journal of the Continental Congress might be a good buy if you're cool with racism.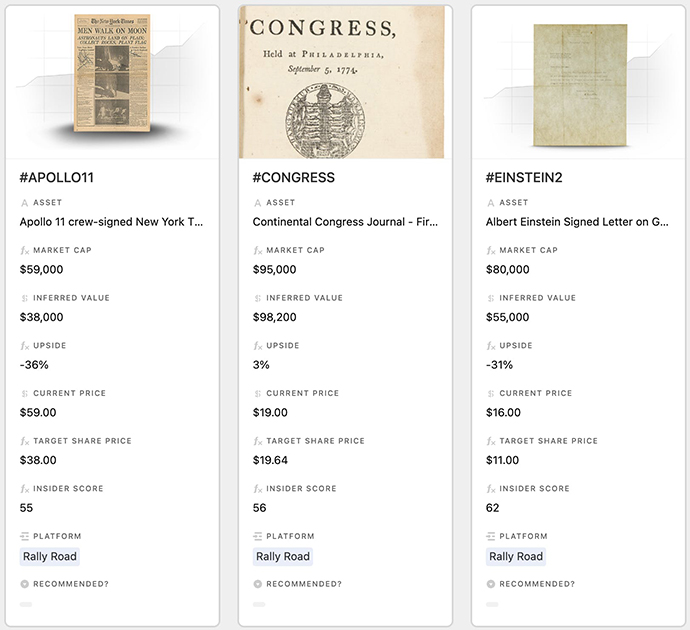 At Auction
Let's focus on more unique and contemporary assets this week, yeah?
The first item that's caught my eye is this ridiculous collection of over 600 autograph albums spanning six decades and 24k famous names. I haven't got room to list everyone — or even a sampling — of who's put their name to these books, but you can download a spreadsheet if you'd like. If it's someone you've heard of who was alive from 1950 to 2000, their name is probably in one of these books. This will be a goldmine for one of those historic trading cards sets.
RR Auctions is also auctioning off quite a few letters written and signed by American presidents from Washington to Jefferson to Biden. Washington letters in particular frequently go for six figures.
The lot we're keeping the closest eye on at RR this week is one of three existing acetates from the Beatles' 1964 concert at the Hollywood Bowl. This concert was one of three at the venue that combined fill out the Beatles' first live Album, The Beatles at the Hollywood Bowl. The item has bounced around RR a bit selling for $17,500 in 2019 and $21,889 in 2021. I think there's a good chance it breaks $30k this time.
The other auction I'll be watching closely this week is the Original Film Posters event at Sotheby's. It's sort of an odd collection of popcorn and cult films like Star Wars and James Bond and French films like Les Enfants Terrible and Mon Oncle.
My pick at this auction is a withdrawn concept poster for The Empire Strikes Back. Deemed too busy and dark, only a few of the posters were produced, so it's very rare. Sotheby's estimates it'll go for between £14k to £22k ($19k to $30k), but I think that's on the low side. An identical copy with a slight tear sold for $24k in July 2021.
A piece of Star Wars concept artwork painted and signed by Jack Kirby for the same film blew past estimates when it sold for £42,500 ($59k) in December.