Welcome to Sports Cards Insider for January 4th, 2022 – FREE version.
We use Moneyball tactics to discover undervalued, mispriced, and hidden gems in Fractional Investing.
Sports Cards performance 2021
Overall it was a really good year for sports cards as nearly every category climbed. Baseball, hockey, and basketball were each up around 100%, soccer climbed nearly 200%, and football was up 300%.
Only wrestling and golf were down on the year, shedding 20% each.
However, sports cards on fractional indices continued to slide into the end of 2021. Up nearly 60% in late March, the asset class finished December only slightly positive, up 4%.
This generally tracks the CardLadder 50 index, which is a broad representation of high-end cards at lower grades (note their X-Axis is oddly skewed to overrepresent the end of the year).
That said, I believe CardLadder's High End index is the best benchmark for fractional sports cards, and while that index slowed down toward the end of the year, it continued to climb. It finished the year up around 200%.
So either cards on fractional platforms were overvalued in the spring, and they've come back to an appropriate valuation, or they're undervalued now.
Our analysis shows sports cards are overvalued on the fractional platforms by around 4% right now, so it's more likely the former – irrational exuberance drove the asset class to unrealistic prices last spring, and they've now settled more or less where they should be.
Last Week in Sports Cards
Fractional secondary markets
As if to punctuate a rotten end of the year, sports cards continued to slide on fractional platforms last week with only golf, tennis, and baseball posting positive returns.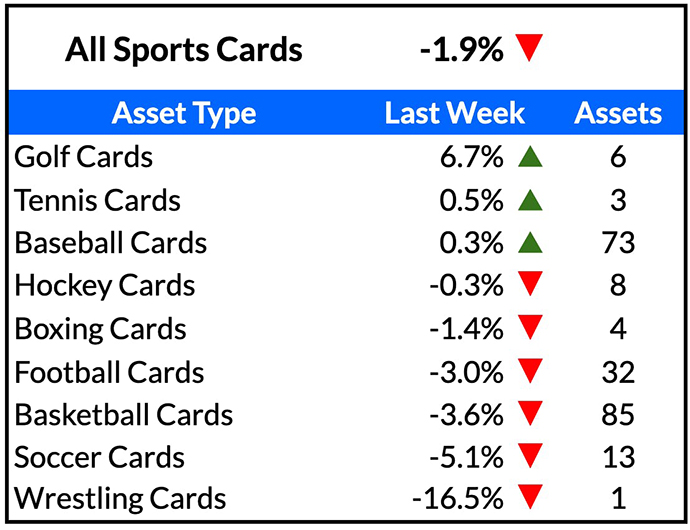 Again this bucks the broader market trend for sports cards as every category was up last week on Alt.
With only around 4% left to slide before fractional platforms hit fair market value, there are going to be some good buying opportunities soon (there are already a few now).
Auctions
Crickets on the auction block over the holidays, I'm afraid. There were a couple of notable sales on eBay, with two 2003-04 Topps Chrome LeBron James rookies selling in the $12k range (in line with recent comps).
The biggest-ticket item to sell was a 2000 Playoff Contenders Tom Brady Rookie Ticket Auto BGS 9, which went for $95k. That's also right in line with recent sales, but Collectable have a pair trading on their secondary market right now for $234k.
This Week
Assets dropping on marketplaces
Three IPOs this week with one each from baseball, football, and basketball.
Auctions
Goldin Auctions continues its December Elite auction and is set to end this week.
These are the cards I highlighted last time and am tracking most closely:
Worth noting as well that the 1986 Michael Jordan rookie is up to $312k, which is just shy of the last sale of $336k. If it can puncture $400k in the next four days, that'll be an excellent sign given the card's recent movement.
That's all for this week. Make sure you sign up to our Discord, where issue previews and in-depth valuations get kicked around.