Welcome to Video Games Insider – FREE Version. We use Moneyball tactics to discover undervalued, mispriced, and hidden gems across the world of Video Games.
This week I've done a deep dive into the Super Mario Bros 3 NES Game that will IPO on Rally Road April 12th, 2021 at 12 pm EST. Follow me on Twitter for any late-breaking updates.
What is Super Mario Bros 3 – NES – 9.4 A+?
Originally released in 1990, this is a copy of Super Mario Bros. 3 for the original NES graded as a 9.4 A+ by WATA. This is a later production as evidenced by the "Bros." being on the right side of the box. The first production featured the "Bros." on the left side of the box. Here's a comparison: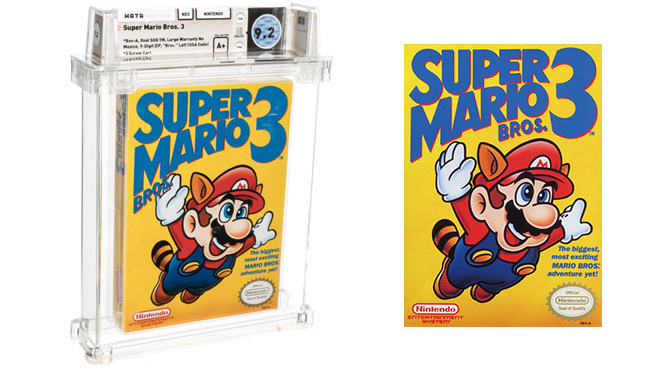 The "Left Bros" copies are much more valuable — this copy is a "Right Bros", so be aware of that crucial distinction.
As a reminder – go read about the WATA scale if you haven't yet. The grade is the main driver of a video game's value and understanding its meaning is crucial. The first number represents the condition of the item (in this case, the unopened box) on a 10-point scale, with increments of .5 until 9, and then increments of .2 until 10. 9.4 is effectively the third highest grade, as 10s aren't really given out.
The second part of the grade is the seal grade – the condition of the factory seal. This scale goes from C to A++. A+ is the 2nd highest grade.
This copy is one of 19 9.4s graded by WATA.
It IPOs on Rally Road on April 12th at 12 PM EST for $25,000.
Add IPO to calendar
Cultural Relevance
We talked about Mario last time, when I wrote about Super Mario Land. But the lovable plumber is easily the most recognizable and culturally important video game character of all-time.
Super Mario Bros. 3 was, in my mind, the true sequel to the original Super Mario Bros. — Super Mario Bros 2 was a hastily produced game that grafted the Mario characters onto a pre-existing game and had a very different gameplay from the original. Mario 3 was the next evolution of Mario 1, in the gameplay, the graphics, the powerups and abilities and it added a bunch of new characters and elements. It was a massive critical and commercial success, selling 17+ million copies worldwide, only bested by the original Mario Bros and Duck Hunt (which was bundled with the original NES system). If you grew up in the 90s, you almost certainly spent a ton of hours playing it.
It is often considered to be one of the best, if not the best, NES game and one of the greatest video games of all-time.
Inferred Value – $20K-$30K
[Detailed Valuation available to Insiders Only]
Asset Growth TTM
Growth Outlook and Future Catalysts
There will always be new Mario games and his popularity has endured through generations. While not on the level of the original Super Mario Bros, Mario 3 is still a highly sought after collector's item. And, as mentioned before, the recent record sale of NES Super Mario Bros. got a lot of media attention. While Mario 3 may not appreciate as rapidly as the original, it can certainly ride its coattails.
The big difference is that as of now, there are a fair number more sealed and graded copies of Mario 3 making the rounds, based on the population report and the number of recent sales. It's simply not as scarce as the original, and that might limit its growth. I do expect it to outpace the video game market as a whole and is a solid long-term hold.
Category Strength
The Video Game Cartridges category returned a 59% ROI in Q12021.
Subcategory Strength
Risk Profile
Asset Liquidity
This will have a roughly 90 day lockup period then will trade quarterly.
Platform Risk
Intangibles
Not for nothing, Super Mario Bros. 3 was my favorite game growing up and definitely the one I spent the most time playing. And I bet a lot of people around my age can say the same thing. And I absolutely loved being Raccoon Mario.
Disclosure: I may buy shares of this IPO.
---
Due Diligence Service
If you're looking to make a big asset investment, we can help you perform due diligence. Stefan created and runs Flippa's Due Diligence program, and can offer the same service to you.
---
Subscription Options​​
Start your free trial of Insider. Deep research and investment insights, now on thirteen alternative asset classes.