Today, people from over 100 countries honor their dads, granddads, and paternal figures, celebrating fatherhood and its crucial role in society.
A bad joke is called a "dad joke," and an out-of-shape weekend warrior is said to have a "dad bod." But we all know these cheeky put-downs are actually undercover terms of endearment. We love our dads.
That's why we've prepared a special Father's Day Sunday Edition, including some unique alternative investment gift ideas to let them know they're appreciated.
If you happen to be the only paternal figure in your life, then use this opportunity to discover something special.
Let's go 👇
The Story of Father's Day
Father's Day didn't originate from a dad who felt under-appreciated. Nor did it start with a son who wanted to celebrate his hero.
In fact, it was a daughter who suggested there be a special dad's day, and the story of how it came to be is actually quite heartbreaking.
The first Father's Day service in history was actually a church memorial. On Dec 6, 1907, the worst mining disaster in American history occurred in Monongah, West Virginia. A spark from a miner's lantern ignited methane gas, creating an explosion in mines No. 6 and 8 of the Fairmont Coal Company.
There were 362 deaths, including 250 fathers. The event left about 1,000 children in Monongah fatherless. One of those children was Grace Golden Clayton. She approached her pastor about holding a memorial service honoring the fathers lost in the tragedy. Two months after the first Mother's Day, the first Father's Day was born.
Making it a tradition
Sonora Smart Dodd, from Spokane, Washington, was the child of a Civil War veteran who raised Sonora and her five brothers by himself. Sonora is the one responsible for making Father's Day an annual celebration.
With the help of her church, Dodd lobbied and petitioned to make Father's Day permanent. It was a slow start, (her first petition only had two signatures). Still, the idea of a yearly, widely-celebrated Father's Day eventually gained traction.
Many fathers were skeptical. They viewed the holiday as effeminate — similar to Mother's Day, when moms were honored with roses and candy. In 'American Masculinities: A Historical Encyclopedia,' Historian Timothy Marr wrote:
…men scoffed at the holiday's sentimental attempts to domesticate manliness with flowers and gift-giving, or they derided the proliferation of such holidays as a commercial gimmick to sell more products — often paid for by the father himself.
By the end of World War II, however, that sentiment was gone. Dads realized being appreciated isn't the least bit emasculating, and Father's Day has been universally accepted ever since.
Official proclamations
In 1916, President Woodrow Wilson went to Spokane to recognize Father's Day. He wanted to make it an official holiday, but Congress resisted, fearing it would become commercialized.
In 1966, President Lyndon B. Johnson made the first national proclamation in observance of Father's Day. In the declaration, he wrote, 'If the father's responsibilities are many, his rewards are also great – the love, appreciation, and respect of children and spouse.'
In 1972, President Richard Nixon made Father's Day a permanent national holiday.
Father's Day spending
According to the National Retail Federation, spending on Father's Day gifts in the US has doubled over the last 15 years, and is expected to total $20b this year. (Still, that's half the amount spent on Mother's Day!)
I think this increase has to do with the changing role of the modern-day father.
In 1989, 3% of fathers in the US reported being stay-at-home dads. By 2016 that number had increased to 7%. Dads now spend around 8 hours/week in childcare — triple the time spent back in 1965.
This is partly because now, only 27% of couples with children are single-earner households, down from 47% in 1970. With more women entering the workforce, more men get to be the caretakers.
Studies have shown that this increased involvement also leads to healthier relationships between partners, and lower levels of depression for mothers. Hooray for equal parenting and better role models!
But if we're spending a collective $20B on Father's Day, it better not all be on ties and underwear. If this was what you got your dad last year, check out the gift suggestions we've got lined up.
Alternative investment gift ideas
Look, there's nothing wrong with a nice tie or some comfy socks. But there are a ton of cooler gift ideas for pops.
Luxury Fountain Pens 🖋️
There are a few well-known luxury pen makers, but none more so than Montblanc.
Montblanc has done to fountain pens what Ferrari did to race cars. They also make leather goods and timepieces, but it's their unique fountain pens that made them famous.
So, what makes these pens so special?
For starters, the pens have extraordinary craftsmanship through a unique mix of classic & outlandish designs.
The "nibs," the part that does the writing, are handcrafted, and the quality control includes trained craftspeople listening to a nib, and feeling how the pen writes.
In the Patron of Art editions, these nibs are made of 18 karat gold, with the ornately decorated barrel and cap portraying the importance of each person honored by the pen. Some of these fine writing instruments are made in very limited editions. For example, the Patron of Art Homage to Moctezuma Limited Edition Fountain Pen has just 87 pieces.
Other designs are more affordable. The Scipion Borghese (one of 4,810 pieces) will set you back $3,500
The least expensive Montblanc pen currently available is a special edition ballpoint pen in the shape of a spark plug, created to recognize Elvis Presley and his love of cars. Despite being a "normie" ballpoint, the pen is still intricate, detailed, and features a 24k gold clip.
Vintage Sports Memorabilia ⚾
If your old man's a fan, vintage baseball gloves are relatively affordable.
You can buy old gloves from the 1920s for as low as $40, and up to $1,000 for gloves in better condition. Prices go higher if the glove has the inscription of a famous player on it, like Ruth or Mantle.
While looking for the perfect vintage baseball mitt, you can easily go down the rabbit hole of other sporting goods like vintage hockey sticks, vintage Converse Chuck Taylor Shoes, and leather football helmets; all of which make cool gifts.
Alternative Posters and Prints 🖼️
This is fun. Depending on your dad's interests, this can go in a few cool directions. Film posters, music flyers, book covers, etc.
We recommend alternative posters & concept art prints (done by artists who re-imagine pop-culture iconography). These large posters (24″ x 36″) are made with thicker stock, can be hand-numbered, and merit framing because of their quality and rarity. These aren't posters you see in a college dorm; they're prized collectibles.
Sites specializing in similar prints include Mondo, Hero Complex Gallery, Bottleneck Gallery, and Spoke Art. Prices vary between $50 and $200, depending on edition size.
Personal Whiskey Barrels 🥃
For dads who enjoy having a nightcap or two, you can buy miniature barrels of whiskey that allow you to age your own drinks. Yup, you can make your own moonshine.
These barrels come with instructions on how to make whiskey and how to clean and cure the barrels. They'll also include pour-friendly spigots and decorative stands, making them easy to store and display. Some barrels can be used to make beer, wine, and other booze.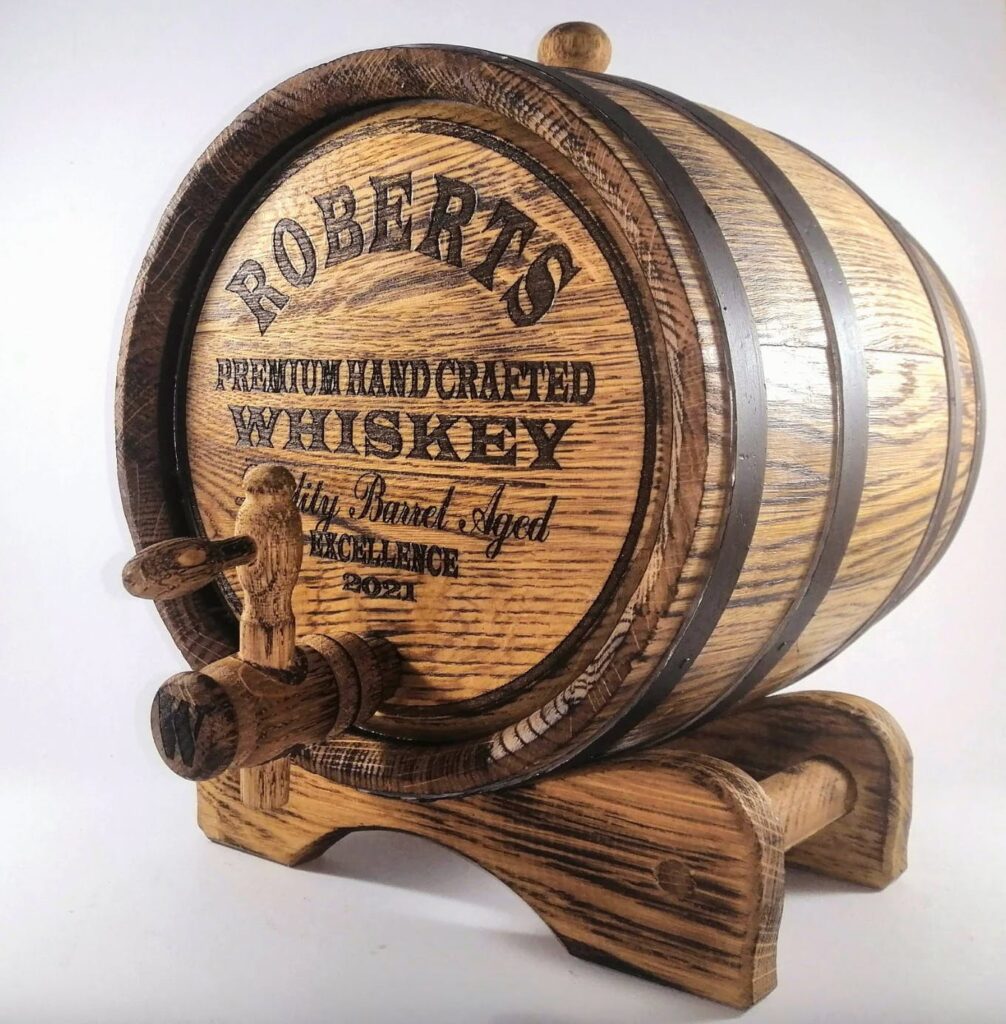 But don't expect the whiskey that comes from these to match the quality of a Macallan 40-year-old.
Smaller barrels age whiskey faster than larger ones. They also yield fewer 'wood sugars' (the stuff that help give its color and caramel notes), so the whiskey lacks a certain depth.
The joy from this gift comes from brewing your own drink, experimenting, and learning about the power of oak.
"The Vasectomy"
No, not that kind.
The drink. Here's a video of Nick Cannon making one.
Take it from Nick. He has eight kids (!!!)
Conclusion
Father's Day has come a long way since its inception, and so have the people who celebrate it.
In light of that, there's one last gift idea we'd like to share.
In the US, there are over 163 million men, of which 75 million are fathers. And something you probably never thought about before is that most men receive their first bunch of flowers at their funeral. And that's because flowers are still viewed as female gifts.
But as it turns out, a majority of men admit they'd like to receive flowers as a gift. What's more, receiving flowers improves mental health, and we all know how stressed and overworked dads can be. So if you'd like to challenge another outdated belief, maybe consider grabbing a bunch of flowers for your old man too! 💐
Whatever you choose, whether it's a pricey collectible or just your love and affection, we hope you have a good one, full of new memories and a healthy dose of dad jokes.