A few months ago we looked at the (terrible) economics of ​office-to-residential conversions​.
After publishing, community member ​Nichole Stohler​ suggested we look at another type of conversion that is under-discussed but growing in popularity: hotel-to-residential conversions.
Nichole is a 20-year veteran multifamily RE investor. In 2017, she and her husband acquired their first hotel, and then a second in 2019 (right before covid). So she has seen the industry evolve firsthand.
Today, Nichole explains why this is such a terrific unique alternative housing solution.
Let's go 👇
Why are hotel conversions attractive?
Hotel conversions repurpose existing, functional hotels into multifamily housing (apartments), student housing, ​senior living​, or other alternative real estate.
It's no secret that Covid dealt a severe blow to the hotel industry:
Occupancy rates plummeted from an average of ​65.9%​ in 2019 to 44% in 2020.
Many hotels reduced operations or closed entirely (especially older 3-star hotels)
Some "quirks" of the pandemic allowed some hotels to thrive while others failed. Hotels located near highways or hospitals, and those with truck parking served essential workers and had more consistent revenue.
We were fortunate that one hotel we owned catered to the healthcare and logistics industries, and maintained consistent growth throughout the pandemic.
But Covid's devastating impact on the industry was the catalyst for investors to consider buying & converting hotels.
Many hoteliers want to get out of bad transactions, and the market has nearly unlimited demand for quality, affordable rentals. Hotel conversions are a great opportunity for the intrepid developer. – ​Multi Housing News​
Multifamily investing is getting tough
Compared to acquiring apartment buildings (or building from scratch), investors who acquire & convert hotels often get better returns for lower risk.
To understand this, let's look at the ​CAP rate​ — a valuation metric investors use to determine a property's investment potential. It represents a property's net operating income ratio to its current market value.
The higher the CAP rate, the greater the potential return, and the more attractive the investment. Think of it like the price-to-earnings (PE) ratio used to analyze stocks.
Now, as interest rates have risen, so have financing costs. CAP rates on apartments currently average just ​4.9%​, and financing rates are trending higher.
The spread means it's very difficult to get strong cash flows from buying apartment buildings. (If you're buying a property that has a CAP rate of 4%, but your financing costs are 6%, you're running into negative returns.)
This is why multifamily investors are exploring alternative opportunities.
Converting hotels to apartments is an attractive option for purchasing multifamily properties at favorable market prices.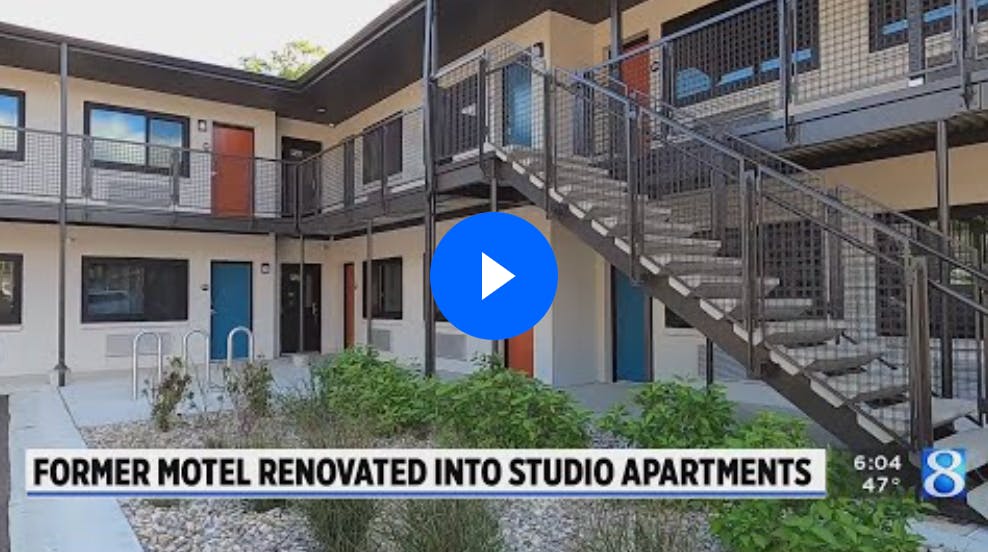 Plus, let's not forget that ​rents have gone up sharply​. If rents can bring in more revenue than what the hotel is currently generating, then the building will have greater upside after conversion.
And that's before the government incentives are factored in…
Government incentives
Federal and state governments are freaking out over housing affordability, and hotel conversions are getting recognized as a promising way to combat the nationwide housing shortage.
The 'Hotels to Housing Conversion Act'
This past May, Adam Schiff (D-CA) introduced the ​Hotels to Housing Conversion Act​, which allocated $750 million in federal funds to help states convert hotels into housing.
This initiative reflects the growing understanding hotel conversions are an effective way to get affordable units online quickly.
For example, this ​Fort Worth pandemic-era project​ took just five months from acquisition to completed rehabilitation and occupancy.
State programs
States are using these funds to encourage conversions:
Why are hotel owners selling?
Hoteliers are selling for several reasons, including attractive offers or avoidance of hotel brand Performance Improvement Plans (PIPs).
The offers are getting tasty
A hotel's price depends on size, location, amenities, brand, and type of hotel type (limited service, full service, extended stay, etc).
Valuations are all over the place. The one thing they (used to) have in common is that they're based on a ​room rate revenue multiple​. But that's not necessarily the case anymore!
I spoke with ​Carol Gallegos​, a hotel broker who operates in 24 states.
Hoteliers are accustomed to selling based on a revenue multiplier. But investors from other sectors started making offers unrelated to revenue, and it opened hoteliers' eyes to larger selling prices
Interest from alternative investors has ​increased hotels' asking price​ by 25% to 35%.
The influx of new investors and their high valuations continue to surprise owners accustomed to past revenue-based approaches.
Performance Improvement Plans (PIPs)
Few terms strike terror into the hearts of tech workers as the "PIP," also known as a Performance Improvement Plan. In corporate culture, these are designed to help the poor performers get back on track/save their jobs.
The hotel world is different. PIPs are renovations and upgrades ​required by hotel franchises to maintain brand standards​. Think of it like a mandated "hotel refresh" every 6-10 years.
Costs can range from $500,000 to millions of dollars for larger hotels.
For example, a ​Holiday Inn Express PIP​ averages $10k – $25k per room. Hampton Inn's runs $15k – $40k per room.
This is essentially a constant investment that eats into profits! It frustrates the heck out of hoteliers, and these owners may find it more appealing to sell their hotels — especially if investors are willing to pay higher prices than normal.
Types of hotel conversions
Apartments
Most converted hotels end up as multifamily apartment complexes.
In 2022, ​nearly one-third​ of buildings converted to apartments were hotels. Rooms morph into residential units with full kitchens and living areas.
Recent examples:
Affordable housing
Developers aiming to provide affordable housing for low-income residents can tap into financial incentives through programs like the Low-Income Housing Tax Credit (LIHTC) and HOME.
Low-Income Housing Tax Credits (LIHTCs)
​LIHTCs​ grant tax credits to developers for creating affordable housing.
Developers compete for these credits by submitting proposals evaluated on factors like location and community impact.
If selected, they can offset their federal taxes over ten years. They can even sell the tax credits to other investors.
Home Investment Partnership Program (HOME)
​HOME​ gives developers funds to pay for acquisition and construction costs.
Developers need to apply for the funds, and projects financed by HOME must adhere to strict monitoring and affordability standards.
HOME is managed by HUD (a federal program), but funds are given to the states. So developers seeking to convert hotels into affordable housing can apply through local and state housing agencies.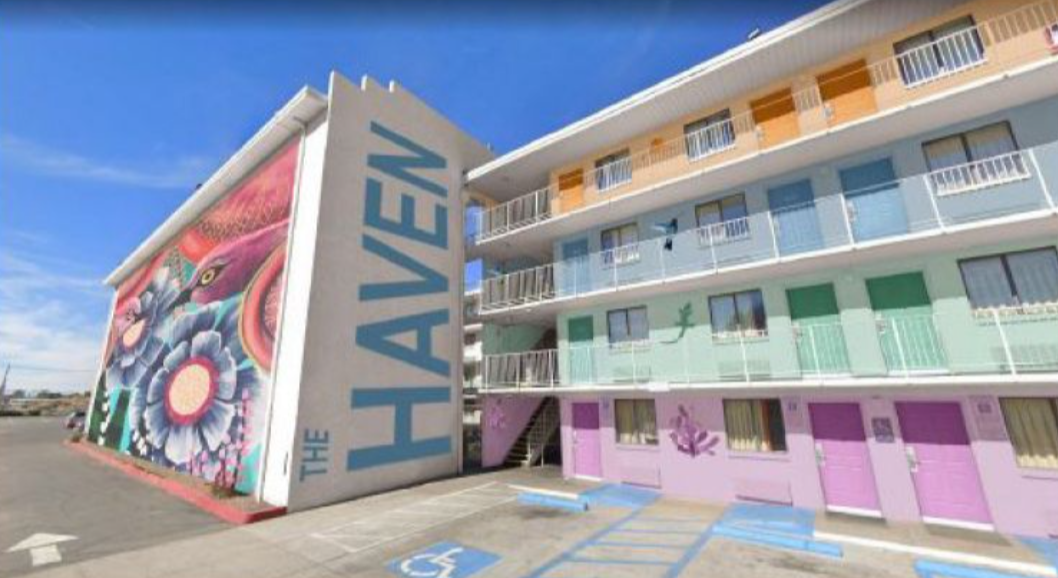 It's fascinating to see cities themselves use federal funds to acquire motels & work to convert them into housing.
Examples:
Student housing
Despite ​declining university enrollment​, Alts is ​bullish on student housing​, and so am I.
According to Business Research Insights, the global student housing market is projected to grow at ​4.9% CAGR​ through 2027.
Hotels are already often located near universities and colleges. Add communal spaces and study areas suited for students, and boom — easy conversion.
More examples:
Senior living
The assisted living market is projected to grow at ​5.5% CAGR​ through 2030 — faster than student housing. But converting to senior housing takes a bit more work.
Mobility is the big concern here. Developers need to modify room layouts and widen hallways to improve accessibility.
Common areas like lobbies and dining areas must be retrofitted to provide healthcare services and assistance to residents. If it's a proper facility, you need to build nursing stations, physical therapy rooms, and spaces for visiting doctors.
Senior living developers like ​Solvida​ base their ​entire acquisition strategy​ on hotel conversions to meet demand. The lower purchase cost enables operators to reduce rental rates and provide more affordable senior housing.
Another example:
Greenbrier Development is in the process of repurposing an abandoned hotel and convention center in the vicinity of Cincinnati into a senior living community.
Pros and cons of hotel conversions
Pros
It's cheaper than building from scratch
Hotel conversions are more cost-effective than new construction. The national average cost to build a new multifamily property is around ​$350/sq ft​, while converting an existing hotel can be half that.
For example, a ​2021 National Association of Realtors study​ found that 53% of conversions from limited-service hotels into multifamily properties cost approx $25,000 per room.
A typical limited-service hotel room is 100-250 square feet.
Using an average size of 150 square feet corresponds to around $167/sq ft for conversion.
Conversions are quick
Hotels can also be converted much faster than constructing new buildings.
This isn't like converting office buildings, which are a haunted house of retrofitting. The format of hotels and motels is already very similar to multifam buildings. Structure transformations can be done rapidly.
Environmentally-friendly
Conversions are an efficient use of space and materials. Recycling buildings can ​reduce carbon emissions by 40%​.
Cons
Some modifications are still needed
It's not a cakewalk. Significant ​modifications​ may be needed to adapt layouts and systems.
This can include adding kitchens, HVAC, and electrical upgrades to each unit and meeting apartment regulations for layouts, security, and in the case of senior housing, mobility.
Regulatory & zoning considerations
Converting hotels into other uses, like apartments, can have ​zoning limitations​.
For example, New York City restricts permanent housing to residential zones, so ​rezoning commercial hotels has been difficult​.
Meanwhile, California took a different approach with its affordable housing program and ​exempted developers from zoning rules​ to encourage conversions.
Closing thoughts
Unlike office building conversions, hotel conversions are relatively easy to do, and have favorable unit economics for investors.
The key is in the similarity of the buildings. While some structural modifications are needed, they pale in comparison to retrofitting a 1950s office building.
Hotel conversions breathe new life into outdated buildings. They're cost-effective, can be deployed quickly, are backed by government incentives, and are exactly the type of creative, alternative housing solutions the world needs to combat the evergreen shortage (especially on the low-income side.)
As multifamily & senior living buyers struggle to find properties with positive cash flow, demand for hotel conversions is rising. Buyout offers are getting increasingly attractive, enticing many hotel owners to step off the endless "PIP treadmill" and cash out.
Yes, hotel occupancy has been climbing back since Covid. ​But it's still not back to 2019 levels​.
And this is about more than just gross revenue. Operating costs have gone up for labor, taxes, supplies, etc.
As a hotelier, I've been watching hotel conversions closely and have seen some of my fellow hotel investors take advantage of these great opportunities.
It allows hotel owners to recoup value from their underperforming/outdated assets. Investors get cost-effective options compared to new construction. And for renters, finding a place to live becomes slightly more affordable.
It really is a win-win. 🏨
Further reading
Plenty of ​case studies​ show conversions are happening on accelerated timelines.
It's not "hotel conversions" per se, but the city of Perth, Western Australia, is offering Airbnb owners $10,000 to put their listings ​back on the long-term market​.
New York is trying to follow California's lead, but it might already be too late. New York's tourism industry is back on the upswing, and affordable housing developers are now ​competing with regular investors​ who want to buy hotels for their original purpose, driving up prices.
---
Disclosures
This issue was sponsored by Equity Multiple
Neither the author nor our ALTS 1 Fund holds any interest in any companies mentioned in this issue.