Hi everyone,
Today we're jumping into the world of crypto funds and exploring a newer player in the industry – Ember.
This piece will cover what Ember is offering in the Web3 space, their upcoming capital raise, and what makes them different in the saturated blockchain world.
Let's face it — it's been rough for crypto over the past six months. After the dizzying heights of 2021, Bitcoin and Ethereum have sunk over 50%, and many altcoins have suffered a worse fate.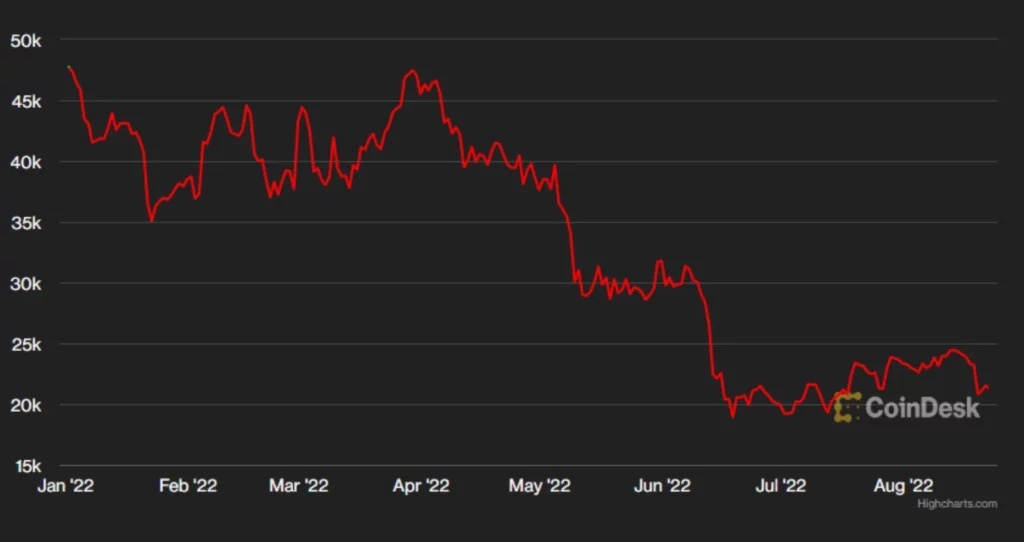 However, if you're a crypto believer, this winter is just another blip on the long-term journey. And despite the blip, crypto remains an appealing alternative asset for many.
As we know, however, crypto isn't exactly the most stable asset, and it's volatility has no doubt turned away many potential investors. This is one of the problems Ember Fund is trying to solve.
Let's go!
What is Ember Fund?
Ember Fund is a series of managed crypto portfolios that investors can access with a click of a button.
Their mission is pretty straightforward — make building a crypto portfolio simple. Blockchain technology is constantly evolving. It's pretty hard for retail investors to keep up to date with every new coin, every new NFT, and all the disruptions in the blockchain world.
Now, Ember isn't the first company out there doing managed crypto portfolios and indexes. But it certainly differs from the others. The difference? Most of these other funds are only available to institutional investors with large amounts of capital. Ember Fund believes crypto indexes are the next big thing and wants to bring them to the masses.
Ember Fund's founders
Ember Fund was co-founded by now-CEO Alex Wang in 2018 (along with Guillaume Torche and Mario Lazaro).
Alex previously worked as the product manager for GumGum, an AI company that worked on machine-learned image recognition (which has taken off in the past few weeks with the release of the awesome DALL-E 2).
So, Ember Fund was born with a key focus: bridging the gap between cryptocurrency's complexity and the everyday investor.
What sets Ember Fund apart?
Most exchanges are trying to simplify their platforms and make them mobile-friendly to suit the younger demographic that invests in crypto. Crypto.com is probably the most well-known example.
Managed crypto funds typically have high minimum investments and can only be obtained through wealth advisors and family offices. But Ember Fund provides a managed cryptocurrency portfolio without the typical barriers to entry.
That's the cornerstone of their business model.
Distinctiveness
There really aren't that many competitors in this space.
Several exchanges (like Binance) offer weighted "crypto bundles," which are essentially funds. A few NFT funds are popping up too. However, only a couple of these are actively managed. The managed funds are typically restricted to high-capital institutional investors.
As one of the only emerging DeFi asset managers, Ember Fund works in a blue ocean with very few direct competitors.
Investment minimum
Ember Fund has one of the lowest investment minimums out there — ten bucks. 🤑
This opens the opportunity for a diversified, hedged crypto portfolio for pretty much anyone.
Learning portal
Another great feature of Ember Fund is its learning portal. If you want to bridge the information gap in crypto, the consumer needs to be incentivized to get into it. So, Ember Fund rewards you for learning.
Every 24 hours, the app has a "mining period" (note that this isn't true mining on a blockchain network), where you can learn about crypto and receive a small amount of BTC. This earn rate increases when you invest in one of Ember Fund's portfolios.
Ember Fund's App
While other crypto platforms treat smartphone apps as a secondary concern, Ember Fund focuses on providing a mobile experience that's seamless and easy to use for everybody.
Their smartphone app is super user-friendly — depositing fiat and investing in a managed portfolio only takes a few taps and a swipe.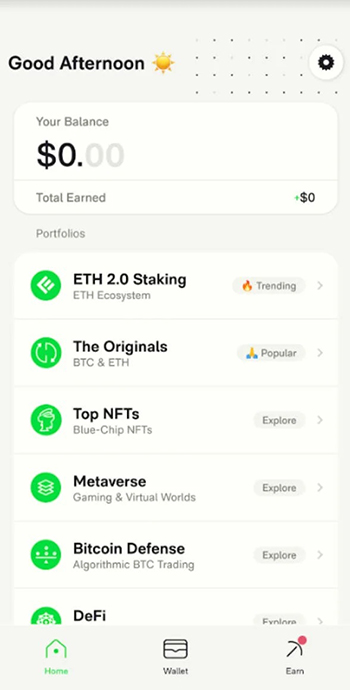 And the users do actually love it. Across Google Play and the iOS App Store, Ember Fund's app has over 1,000 ratings, with an average rating of over 4.5.
Ember Fund's Portfolios
For now, Ember Fund's app has seven portfolios that focus on different sectors of the crypto and web3 universe.
Most of these portfolios are down double digits for 2022 — not even Ember Fund is immune from the current crypto bloodbath. However, they've released a few portfolios that hedge against market volatility, like the Yield and Bitcoin Defense funds.
The crypto bear market does impact Ember Fund, but to a lesser extent than platforms like Coinbase, which generates revenue from trading activity. An extended bear market can cause investors to decrease activity, which lowers trading fees.
Ember Fund collects a management fee (typically 3%) based on their user's account balances. Market drops lead to lower AUM, but Ember Fund offsets this by increasing users, keeping them active on the platform, and investing more.
The Originals Portfolio
Who It's For: Conservative crypto investors who believe Bitcoin and Ethereum will continue to dominate the blockchain ecosystem.

This portfolio was launched a few months ago in response to many investors getting out of riskier altcoins and into the highest quality cryptocurrencies: Bitcoin and Ethereum. The advantage of investing in this portfolio is the automatic rebalancing that occurs on a quarterly basis to ensure optimization of returns.
Rebalancing is done fee-free and tax-free as it is with most indexes in the equities market. The particular portfolio has zero management fee.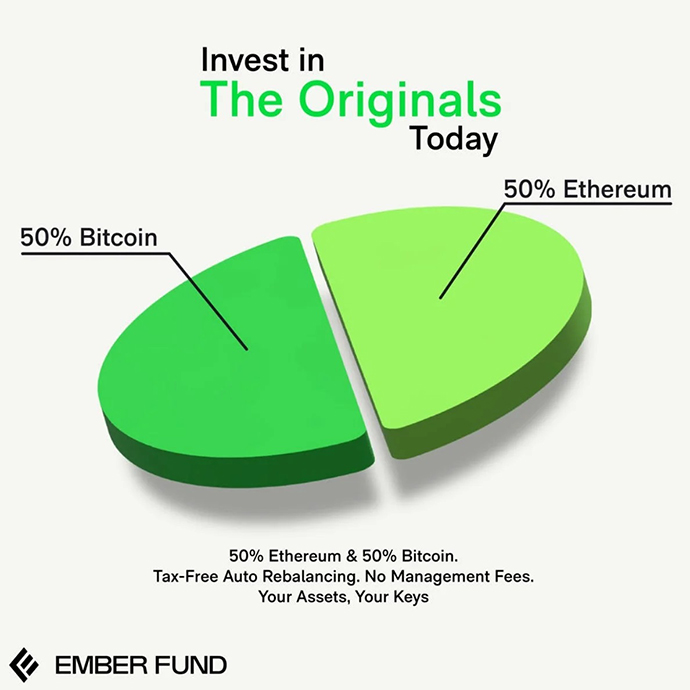 The Ember DeFi Fund
Who It's For: Volatility-loving risk-takers who think DeFi takes market share from traditional finance in the future.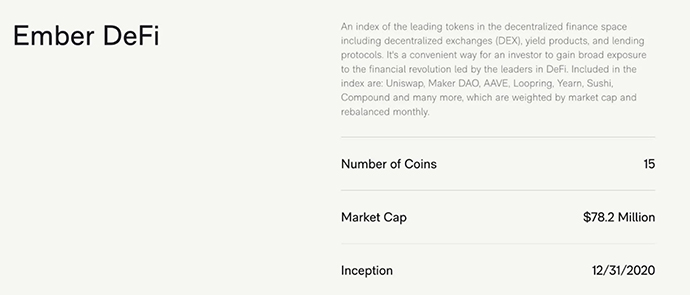 This portfolio was released in late 2020 and has returned 2.7% in the last month.. It's been a wild ride as it rose 109% in 2021 and fell 60% in 2022. This fund includes 15 of the top DeFi cryptocurrencies for DEXs like UniSwap and SushiSwap, as well as earning products like Compound and Yearn.
Investing here would be a bit of a pick-and-shovel play, gaining exposure to exchanges that utilize DeFi technology as opposed to centralized alternatives like Coinbase and Binance. The portfolio is re-balanced monthly and has a 3% annual fee.
The Bitcoin Defense Fund
Who It's For: Bitcoin believers who know diamond hands aren't always the best tactic.
This is for those who want exposure to cryptocurrency without the risk (it seems like an oxymoron, right!). This was Ember Fund's first offering and has been around since March 2018. Between then and now, the fund has an all-time return of nearly 201.4%.
This fund mitigates volatility by loading up on BTC and other crypto assets during bull markets and exiting ~30-35% of their position into yield-bearing stablecoins during bear markets (like right now). The Bitcoin Defense portfolio has actually outperformed Bitcoin over the same period (Bitcoin up 88%). All the while, Bitcoin Defense has less volatility and a lower Sharpe ratio — a key benefit of investing in a managed portfolio.
This fund also has a 3% annual fee.
The Metaverse Index
Who's It For: Anyone who wants to live in the metaverse (or at least own a piece of it).
The Metaverse Index portfolio is one of five new portfolios launched by Ember Fund in 2022. This index gives exposure to GameFi, metaverse projects, and sports.
By holding a portion of these tokens, you'll be able to capitalize on growth in the metaverse sector, participate in platform governance, and enjoy other benefits such as airdrops. The fund has 16 coins, updated once per month, and includes heavyweights like Axie Infinity, The Sandbox, Audius, and Decentraland.
The Metaverse Index has lived most of its young life in the crypto winter. The lifetime performance of the fund is a loss of 74.5%, but may be an entry point into the approaching trillion industry
Other Ember Fund portfolios
Those include a weighted NFT fund (fractional ownership of four blue-chip NFT projects), ETH staking, Yield Farming (stablecoin earning), and a "The Originals" portfolio (50/50 BTC/ETH) which has an all-time high return of 24%.
Ember Fund is raising on Republic
Investment details
If you're an accredited investor, you can get a piece of the company itself.
Ember Fund is raising $3m capital through a seed round to jumpstart further growth and continue building new indexes for consumers.
Round: Seed+ Reg D
Allocation: $3m
Minimum investment: $5k
Security: SAFE
Valuation cap: $80m
The security type issued is known as a SAFE (Simple Agreement for Future Equity). Basically, it is an agreement where a company agrees to payout investors in either cash or equity if they are to go public, sell the business or liquidate its assets. SAFEs aren't technically equity but a promise of future equity.
Suppose the business reaches a valuation of $80m (or runs another trigger event such as an equity raise, sale, or IPO). In that case, investors will receive a proportionate return.
The money raised is projected to be used in five areas:
If you're an accredited investor, you can get involved in this opportunity via Republic.
The Ember Fund business model
Ember Fund has reported its operating margins to be over 90%. Most of their costs are spent on hosting fees (which aren't particularly expensive anyway), advertising, and employees.
The team has projected large-scale growth over the next three years. They see the average person seriously considering crypto funds on the back of rising inflation, distrust in banks, and uncompetitive interest rates.
Ember Fund believes the crypto index fund market will balloon from $120B in 2021 to $1.2T AUM by 2026. This would mirror the growth seen in the ownership of On-Chain Bitcoin Wallets over the past half-decade.
Put this all together, and Ember Fund projects an ARR of over $89m by 2025. They intend to become the investment platform for cryptocurrency.
They want to be "The Vanguard of Crypto" — an investor-friendly portal that offers low-cost, diversified portfolios.
Revenue streams
They have three primary revenue streams:
Consumer. The first market Ember Fund launched in. Revenue is earned from management fees, transaction fees (yield-based portfolios), and lending/yield.
Partnerships. Partnering with financial institutions and other platforms (Evite.com) to grow the audience for Ember Fund products.
B2B/Enterprise. Working with large clients such as money managers, family offices, and brokerages to offer an experience similar to the consumer side with higher AUM fees (4%).
Ember is also looking to expand its stream by incorporating a B2B2C model. Basically, they'll allow wealth managers to create their own crypto strategies and portfolios within the Ember application for their clients.
Ember and the manager will share revenue from the AUM fees. This strategy allows Ember Fund to leverage the relationships that wealth managers and registered investment advisors have already established.
Expansion plans (sneak peek)
Over the next few years, Ember plans to expand its portfolio offerings even further, and they provided us with a sneak peek of what that will look like:
Web3 <3 Index: A portfolio including four of the biggest blockchains supporting smart contracts (Solana, Ethereum, Polygon, and Binance Smart Chain).
Cash Rules Everything Around Me (C.R.E.A.M): A portfolio comprising high fee generating DAO platforms, such as UniSwap, Aave, and Synthetix.
Meme Moonshot: Pretty much exactly what it sounds like – a portfolio with your favorite furry meme tokens like ApeCoin and Dogecoin.
Originals Leveraged x2: A leveraged version of "The Originals," where the portfolio generates extra yield on BTC and ETH holdings through lending and staking on Aave. Open to non-U.S. investors only.
Yield Compounding Eth x2: Similar to the Eth Staking 2.0 portfolio, however, this version will then lend staking rewards to DeFi platform Aave to generate compounding yield. Open to non-U.S. investors only.
Potential risks:
Crypto is currently in the throes of a bear market – consumer interest has been at its lowest since early 2020. How long it takes to recover may impact Ember Fund's growth
Like most crowdfunding platform raises, this investment opportunity is illiquid – you will not receive a return until Ember Fund meets a trigger event (such as a sale or future equity raises/IPO )
Ember Fund is not currently profitable and has a history of losses since the company began operations in 2018.
Larger well-capitalized competitors such as Coinbase/Binance/FTX could launch similar offerings and capture Ember Fund users with higher advertising spending, unique portfolio offerings, or lower management fees.
Crypto and NFTs are famously volatile; extended bear markets may decrease Ember Fund's AUM and ability to launch new portfolios.
Crypto regulations are coming in one form or another – these could harm Ember Fund's cost structure or ability to issue new funds.
What we like:
Ember Fund has a leg-up in their industry niche, as there aren't many tech-first managed crypto funds.
Ember Fund portfolios offer a unique way to get actively managed crypto exposure with reasonable management fees.
Unique offerings and small company size could make Ember Fund an appealing bolt-on acquisition for a larger crypto player such as Coinbase.
A scalable business model with low capital needs results in high operating margins.
Low investment minimum in the portfolios ($10) and company ($5K)
The current customer base is very happy with their services which is crucial for their AUM-based revenue model
Averaged close to 5k new users per day in early 2022
User retention of 80%+ over a year and 223% AUM retention figure (which means user account balances are growing over time)
Daily BTC earning helps keep users engaged and learning about crypto
Partnerships like eVite.com (which allows user to gift a crypto portfolio) exposes Ember Fund portfolios to new audiences
Emerging new verticals in partnerships and B2B/enterprise; this focus on larger accounts and investment advisor's existing client networks will increase management fee revenue
Prior history of increasing valuations in subsequent raises (10x valuation increase from first Republic raise in 2019.
Closing thoughts
The way society perceives crypto is really interesting. There aren't too many who sit on the fence regarding the tech — either they don't understand it, hate it, or think it's the next big thing.
Relative to most other asset classes, crypto is still super young. There are no doubt many more growing pains for the blockchain to go through. Just how far the technology will come is really anybody's guess. Will it conquer the financial industry? Will it revolutionize gaming? Honestly, I have no idea.
Ember Fund's model is quite a good one. Considering that only 14% of US households own a single company's equity, while 45% own a mutual fund, it makes sense that the crypto sector will follow suit. Ember is one of the first to offer such a low-barrier crypto fund, and their mobile-first model shows they understand exactly who their market is.
If you're an accredited investor, Ember Fund's offering is a good chance to invest in an up-and-coming crypto company. Invest here, or head over to the app store and open an account.