Today we're exploring flying cars — something humans have been lusting after since the days of the Wright brothers.
The Jetsons made the idea feel so close. It really seemed like flying cars were coming. So, where are they?
Well, we already have them…sort of.
The closest thing we have are eVTOLs. They're not cars,* but they're electric and can fly in any direction. Regulation is still lacking, but capital is pouring into the space, and the industry is heating up.
You may not see flying cars in the sky yet, but a lot is happening on the ground.
Let's take a look at the market and where things stand.
Come fly with me 👇
*Actually this isn't true. Some models drive on the ground too!
What are eVTOLs?
eVTOL (pronounced EE-VE-TOL) stands for Electric Vertical Takeoff and Landing.
Get used to this term, because you'll start hearing it a lot (until we settle on something more catchy).
They take off vertically, then fly horizontally like a conventional aircraft.
The first human to fly an eVTOL was ​Thomas Senkel​ in Karlsruhe, Germany in October 2011.
His desire for the Volocopter was simple: to give humanity a new way to travel. Quiet, safe, and environmentally friendly. No traffic jams, no emissions.
His first design was really sleek too:
However, twelve years after Senkel's flight, no eVTOLs are being produced at anything close to commercial scale. And that's mainly because legal fights stand in the way. Commercial flying of eVTOLs is still illegal in most of the world.
But regulation hasn't stopped loads of companies vying to be the first. Today, some 350 organizations in 48 countries are designing, building, or flying eVTOLs, according to the ​Vertical Flight Society​.
Investors are pumping billions into companies and projects; working with regulators and helping the vehicles pass rigorous testing.
Legality is coming, and the race is on.
Several very well-funded startups are expected to reach important milestones in the certification process.
Here are some of the most important runners and riders.
Lilium
​Lilium​ is already telling the world they've made the first electric vertical take-off and landing jet.
Founded in Germany in 2015, these guys have developed a seven-seater aircraft.
The vehicle looks like it's from the future, but it's not that far away.
The company aims to complete certification with the European Union Aviation Safety Agency (EASA) and the Federal Aviation Administration (FAA) by the ​end of 2025​.
With a range of 150 miles and max takeoff weight of 7,000 lbs, use cases go beyond passenger travel. Think emergency transport, medical deliveries, firefighting, and cargo.
Lilium originally got funding from the European Space Agency and the EU's ​Climate-KIC program​, Europe's biggest public-private innovation partnership focused on climate innovation.
To date, has raised over $1 billion from investors including Tencent and Palantir.
Joby
You can't talk eVTOLs without talking about California-based ​Joby Aviation​.
Joby's goal is to deliver the world's first electric aerial ridesharing. And they've already delivered their first electric air taxi to the US Air Force.
As ​SpaceX knows well​, the US Government isn't a bad client to have. ​Joby's contract​ with the Pentagon is worth a cool $131 million.
The company is earning revenue from defense contracts until regulation settles into place, and commercial use kicks into high gear.
Joby's aircraft can fly up to 200mph (!) with a range of 100 miles. But it only carries four passengers.
They've raised over $2 billion from big investors like Intel, Delta, Uber, and ​Toyota​ — who has invested $400 million and is the largest shareholder.
Archer
​Archer Aviation​ is another Cali startup gunning for the US air taxi market. They're trying to one-up (err, "three-up") Joby, with an aircraft that holds 7 passengers.
Their flagship vehicle is called the Archer Midnight. It's expected to have a range of 100 miles and can reach speeds of up to 150 mph.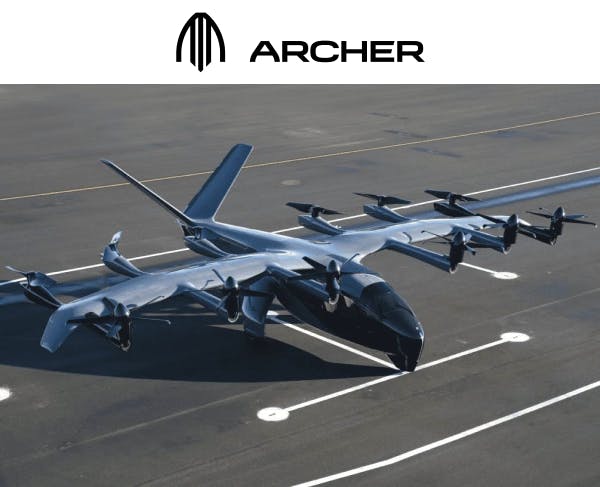 Archer has pulled in $1 billion from investors like United Airlines, Boeing and Stellanitis. They aim to launch their commercial air taxi service in 2025.
Volocopter
Remember ​Volocopter​ from above?
The German company that (arguably) started it all is still in the game. They've developed a 2-seater eVTOL aircraft called the VoloCity. It's smaller and slower than the competition (60mph and 18-mile range). But it may just be the most practical of the lot.
Intended to be a rideshare vehicle that you can book on your phone and have it pick you up, it's like the Uber of eVTOLs — perfect for inner-city travel.
Volocopter wants to ​deploy a fleet of these in Paris​ during the 2024 Olympic Games. But first they need approval from the EASA.
Funding is estimated at $800 million with investors including Honeywell and Neom (the company building "​The Line​" in Saudi Arabia)
Wisk
​Wisk​ is a fully-owned subsidiary of Boeing, one of the two big dogs of aircraft manufacturing.
The sister organization is developing a 4-seater eVTOL aircraft called the Cora. This vehicle has a range of about 90 miles and can reach speeds of up to 138 mph.
Wisk is working with the FAA to certify the Cora and expects to begin commercial operations in the mid-2020s. They're also working to deliver an ​autonomous air taxi service in New Zealand​.
Boeing is making a huge bet on Wisk. Around $500 million has been invested so far, 90% of which has come from Boeing.
Google co-founder Larry Page was also involved. Page had previously funded a flying car startup called Kitty Hawk, which ​shut down​ in 2022, and the prototype was somewhat folded into Wisk)
Alef Aeronautics
​Alef Aeronautics​ has built a tri-modal vehicle that can take off vertically, fly forward, and (get this) drive like a normal car!
It debuted its Model A prototype (which can travel up to 110 miles in the air and 200 miles on the road) at the Detroit Auto Show In July. You can even ​pre-order​ one for $300,000.
The Model A prototype is visually similar to a modern sports car, unlike its competitors' more "helicopter-esque" designs. This isn't a coincidence — Alef deliberately made a flying car that could fit within our existing urban infrastructure.
Alef is focused on the general public and wants to make highways in the sky that can accommodate flying cars, eVTOL taxis, and drone delivery services.
Investors include the legendary Tim Draper, who was an early Tesla investor. SpaceX has invested as well.
Supernal
​Supernal​ is wholly-owned Hyundai subsidiary with a simple goal: to reduce commute time from airports to the city.
Supernal are the new kids on the block, unveiling their ​prototype​ in June last year. This isn't going to take you from one side of Europe to another — the vehicle's charge will only last about 30 miles. But if it reduces congestion to and from the airport, that's a massive win.
Supernal's ambitions may seem timid compared to the competition. But that's only because the company understands you need to crawl before you can walk, and walk before you can run.
For these flying cars to become a reality, they'll need infrastructure to be built — both physical and political infrastructure.
On the physical side, Supernal plans to use Vertiports to land and take off.
On the political side, Supernal's outgoing COO ​Michael Whitaker​ is leaving the company and headed for Washington. This man has the opportunity to singlehandedly push the industry further than anyone else.
More on this below.
In the meantime, let's talk infrastructure.
Infrastructure
All this progress is irrelevant if the right infrastructure isn't in place.
The good news is that flying cars don't require a ton of hard infrastructure to be built in the first place. This isn't like building highways or high-speed rail. The industry utilizes already existing airspace.
Physically, the main thing that needs to be built is vertiports.
What are Vertiports?
Vertiports are the flying car helipads where eVTOLs take off and land. They'll be pivotal connectors linking airports, city centers, and other heavily-trafficked areas.
Think of these like helipads, but with more built-in support infrastructure. They'll act as charging stations, repair centers, and company satellite offices, where (ideally) vehicles from any manufacturer could be serviced.
Understanding the importance of working with governments, Volocopter is helping pave the way here. After revealing its first vertiport concept in Singapore in 2019, Volocopter has worked closely with the EASA, EUROCAE, ASTM International, and GAMA to create standardized vertiports.
​Ferrovial​ may be another one to watch here. The Spanish infrastructure company plans to design and build a network of vertiports around the world, which could service multiple companies.
But we need to be strategic about where they are positioned and how they are governed.
Imagine a world where each airline had its own airport. It would be a total disaster. If we're serious about this technology, vertiports should be placed thoughtfully.
More importantly, they should be decentralized.
Jonathan Dockrell from ​Skytrade​ agrees, adding that decentralized infra includes everything from the vertiport to the airspace corridors ("highways in the sky") which eVTOLs travel along.
By utilizing airspace rights — the area above someone's property — eVTOL developers can form partnerships with landowners and broaden the reach of flying cars and drones. There's even potential compensation for the property owners, as they can use their decentralized physical infrastructure as an alternative asset. – Jonathan Dockrell
Where does regulation stand?
If there's one takeaway you need to get from this issue, it's this:
eVTOLs are illegal to fly commercially in every major country.
Yes, the manufacturing is outstanding. Yes, the physical infrastructure will be a cinch. And yes, countries like Rwanda are already using ​drones to deliver blood​. But regulation stands firmly in the way of hailing air taxis.
As we've talked about, the problem isn't regulation; its lack of regulation! There are no overarching rules in place to govern airspace, so, eVTOLs can only exist along existing helicopter routes. This is helpful for testing, but when it comes to moving people around a city, it's completely impractical.
Discussions are moving forward. Some companies have received tentative commercial certifications (pending more approvals). Blade and Beta's eVTOLs, for example, have done test flights in NYC.
But regulation is desparately needed. Regulation provides confidence and clarity. And the entire industry desperately needs a clear path forward — especially in the US.
President Joe Biden is making moves here. He has confirmed ​Michael G. Whitaker as the next FAA Administrator​. This is huge for the industry. Michael comes from Supernal, the flying car company we discussed earlier. Before that, he spent 15 years with United Airlines, and has a thirty-year career in aviation.
Having an operator on the inside who is not just pro-flying cars, but actually helped develop them, is very welcome.
No doubt, one of his first orders of business will be to regulate the world's largest aerospace system.
By 2030, the first phase of urban air mobility is expected to be operational in metro areas like Dallas, New York, and LA. There's a lot of work to do.
Closing thoughts
I think most people would agree this industry will be huge someday.
Let's face it; flying cars were always in the cards for humanity. It took a long time for the technology to catch up to our dreams, but that time is here. We should be thankful.
Now the race is on for urban air mobility. But until we figure out the regulatory side, air taxis are flying straight into a wall.
This isn't like Uber. who "blitzscaled" their way into cities, and quietly disrupted taxis before regulators could catch up. This is airspace we're talking about here. Everyone notices this stuff. You can't just fly under the radar.
Interestingly, it seems like eVTOLs are better off than drones. Drones have essentially zero existing infrastructure to work with. On the other hand, eVTOLs have helicopter routes.
Ultimately, an eVTOLs is just a more efficient helicopter. Choppers are cool, but they're old-school. They're oddly slow, incredibly dangerous, and ultimately inefficient. (Not to mention they have a single point of failure: the ​Jesus nut​.)
Oh, and they're expensive. Operating a helicopter costs about $200 – $500 per hour. But air taxi companies expect costs of just $9-10 per mile. For consumers, this means an effective cost of just $2-$3 per person per mile (depending on seating capacity).
This is far, far cheaper than what it costs to operate a helicopter. It's more on par with something like Uber Black.
It's easy to get too excited about this market, and jump the gun. That's what happened to Google's moonshot, Kitty Hawk. They were early, but they came in heavy and ultimately bit off more than they could chew.
In my opinion, the smarter companies are ones that understand this best. Volocopter and Supernal realize they must pursue development from both sides: the aircraft and the infrastructure.
If we can focus on building a decentralized framework of vertiports and permissioned airspace, then maybe flying cars aren't that far away. But this could all fall apart if airspace owners aren't part of the solution.
Jonathan Dockrell says it best:
For this industry to take off, companies need to engage in conversations with non-aviation stakeholders — city planners and air rights owners. If we want this to become a reality, local councils, cities and governments will all have to team up and play their part.
We're at an inflection point in urban air mobility. This is nothing less than a transportation revolution. Opening low-altitude skies is this generation's railroads.
The problem isn't physical, it's political.
Governments need to build the tracks. 🛤️
---
Further reading
Flying car concepts go back a hundred years. The ​Aerocar​ was part car, part airplane (and it worked!)
But for "flying car nostalgia that never was," nothing beats ​Flying Cars and Food Pills​.
UK-based ​Vertical Aerospace​ had a disastrous flight test in August, when their remotely piloted prototype ​crashed​ during a test flight. Thankfully there were no injuries. But the crash put a damper on hopes for a 2026 release.
Markets and Markets has a good list of ​vertiport companies​.
Luxury jet maker Flexjet has launched a new in-house ​helicopter division​ (at exactly the wrong time?)
Skytrade is aiming to become ​the air rights marketplace​, enabling property owners to receive passive rental income from their airspace by creating low-altitude transit corridors in the sky.
Joby held the record for longest eVTOL auto flight until this past March, when the record was broken by, err, ​Autoflight​, who flew 155 miles on a single charge.
In a perfect example of how slow things move, the EASA released an official opinion proposing new rules for the operation of VTOLs. ​Don't bother reading it​. It's justn yet another piece required to create a regulatory framework that will enable the launch of VTOL and air taxi services in Europe. Manufacturers will still need to get other necessary approvals before they can operate.
By 2050, Morgan Stanley estimates the eVTOL industry to be worth ​$1 trillion by 2040​.
The annual ​eVTOL Symposium​ will occur Feb. 6–8, 2024 in Silicon Valley. Go before the "normies" start showing up.
Disclosures
This issue was sponsored by WebStreet and Perimtec
Neither the author nor our ALTS 1 Fund holds any interest in any companies mentioned in this issue.
This issue contains no affiliate links.
I am exploring ways to short helicopters