New here? Read up on our past NFT issues to get the most from this post.
June 17 | ± 6 minutes
CONTENTS:
Our analysis of the NFT market for the year & for the week
All you need to know about any current drops
A heads up on cool projects we think are worth checking out
Industry news update
Let's go!
NFTs in 2022
Our index shows that NFTs on the fractional markets have given back all their returns since secondary trading opened in September 2021.
Fractional assets dipped to a zero percent return last week, there's been a slight bounce with a 1% return for all IPOs across Otis and Rally.
How bad is the NFT market right now? According to the block.co, last week saw the lowest trade volume since the week of January 17, 2021 – the lowest in nearly a year and a half.
Last week's trade volume averaged $3 million per day. The total volume this week has already surpassed last week's as buyers look to act on NFTs at a discount.
At one point yesterday, 14 of the 15 biggest NFT projects were up over the previous 24 hours.
14 of the top 15 NFT projects up over the last 24 hours. pic.twitter.com/kAThevdBHj

— Wyatt Cavalier (@itiswyatt) June 16, 2022
NFTs Last Week
NFTs on Fractional Marketplaces
The fractional markets, like all other markets, have taken a steep downturn. One factor to keep in mind is that the fractional market prices are not reflecting what's actually happening out there.
Two examples we can give are as follows:
'Fuzzy' Chromie Squiggle #5847 on Rally was offered at a market cap of $66k, and now stands at $15k – a 77% decline in price. But a similar Squiggle on OpenSea has a floor price of about $10k.
On the other hand, Bored Ape #7359 was offered at a market cap of $190k. It currently stands at $248k with its Otherside land – a 30% increase in price from IPO on Rally. But the floor price for a Bored Ape with a similar rarity and its Otherside Deed is about $97k. So while this Ape has returned 30% on investment, the market cap on Rally is overpriced by 260% compared to the open market.
This is not to beat down on fractional marketplaces – or Rally – but to describe how pockets of the market are functioning. In this space, we've written about the illiquidity of fractional marketplaces and highlighted the community-building aspect.
For better or worse, it's important to view these fractional marketplaces differently than the general market.
NFTs on OpenSea
Goblins relinquished the top spot after two weeks, and floor prices have dropped in half from 6 ETH to 3 ETH. In reality, the price has fallen by more than 50% with the steep decline in ETH.
This week, the Goblins devs doxxed themselves as the creative digital agency Truth Labs. It turns out Truth Labs had released two other projects: illuminati and The 187. With this news, illuminatiNFT's volume shot up by 21,000% within 24 hours, and the more obscure The 187 also saw a modest bump.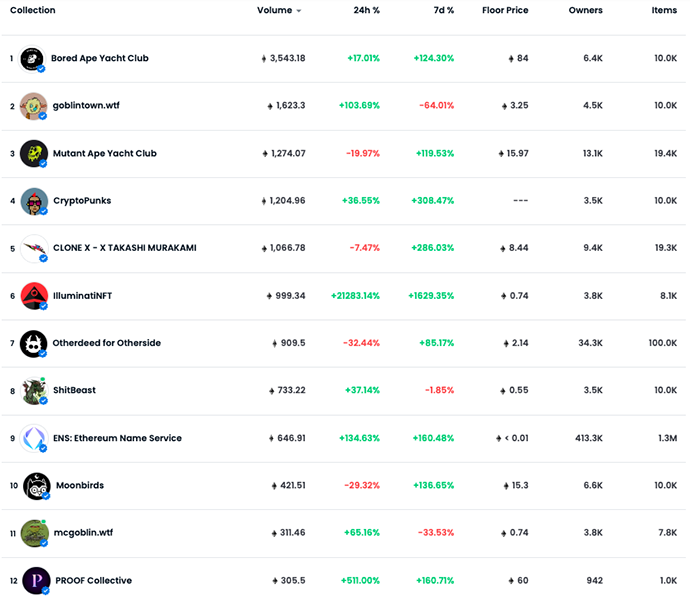 Now for a quick check on, uh.. fecal-oriented projects:
ShitBeast is sitting at #8 on OpenSea
i'll poop it nft dropped down to #55 from its previous high of #8 last week
The two projects come from the same creator, and you can actually trade two i'll poop it nft's to generate one ShitBeast. No sarcasm here, just facts. 💩
Lastly, the Illuminati have risen to #6 on OpenSea. The NFT is made by the same lab that made Goblintown.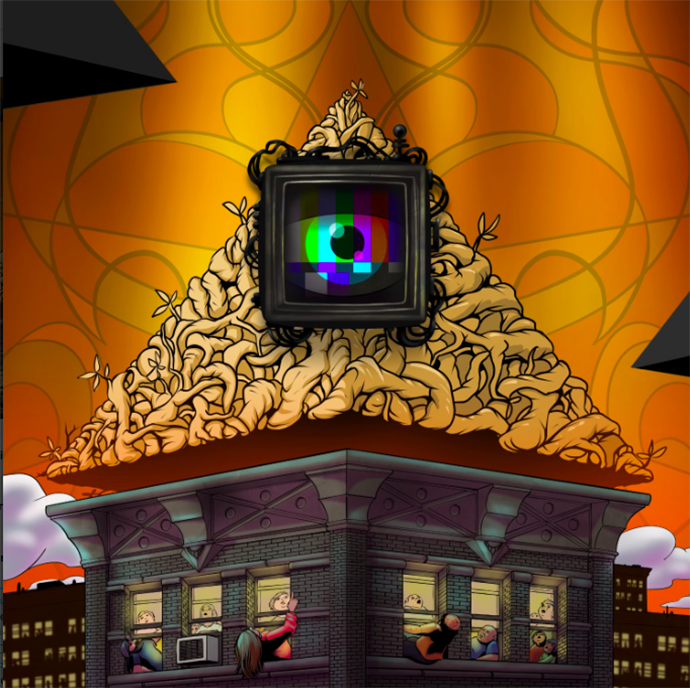 NFTs This Week
Project to Follow
Mint Date: TBD
This project only has a Twitter page – with more than 140k followers.
This is another project developed by artist Markus Magnusson, the creator of one of the most hyped collections this year – Invisible Friends.
The assumption is that Invisible Friends holders will be airdropped a Garbage Friend or get whitelisted for a future mint.
The floor price for Invisible Friends is at 3 ETH or about $3k
Without more than a Twitter page, this project is worth following, but do NOT buy an Invisible Friend in anticipation of getting an airdrop or whitelisted.
Markus Magnusson has not made any official announcements that Garbage Friends will be released in the future.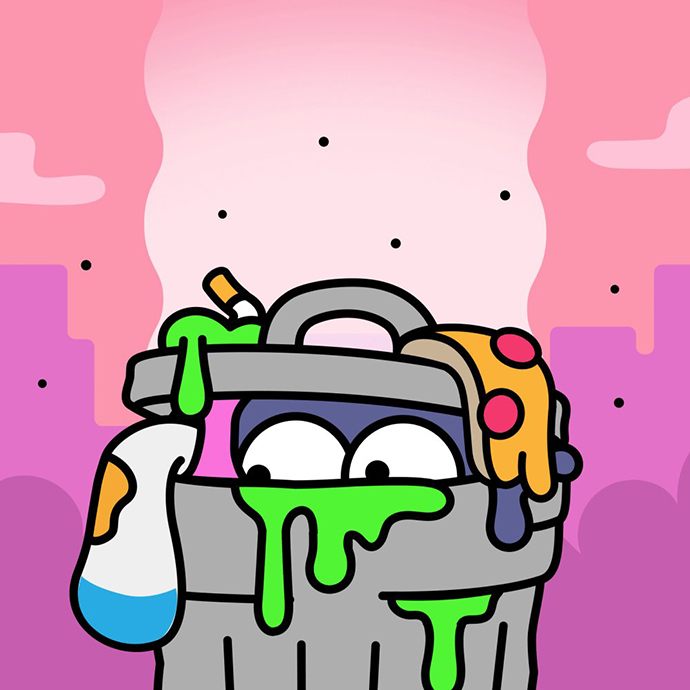 Industry News
Some tidbits from around the NFT world:
A sign that the apocalypse is upon us: Anna Sorokin, famous for posing as a German heiress in New York City (you may recognize her name from the popular Netflix show), is releasing a line of NFTs, granting access to… her. Sorokin used her fake identity to socialize with some of the most influential socialites and business people during her time in NYC.
She told NBC News:
'I'm trying to move away from this like, quote-unquote scammer persona.'
Sorokin is offering 10 NFTs that will grant access to one-on-one phone calls with her. She is also selling 3 'ultra platinum' NFTs that allow holders to meet her in person and receive "personal gifts."
Bill Gates was in the news cycle this week for saying digital assets are "100% based on greater fool theory." It's interesting that one of the most influential tech leaders and businesspeople in the history of the world has yet to embrace blockchain technology. Instead, Bill Gates is accumulating farmland (we like farmland too).
'the littles,' an NFT collection of 10,000 bears started by Wil Lee and his wife, Cass Chan, will have one of its digital bears, JoJo Bear, turned into statues that will be on display throughout New York City. The littles were most recently turned into an animated series by TIME Studios. We highlighted the project back in April.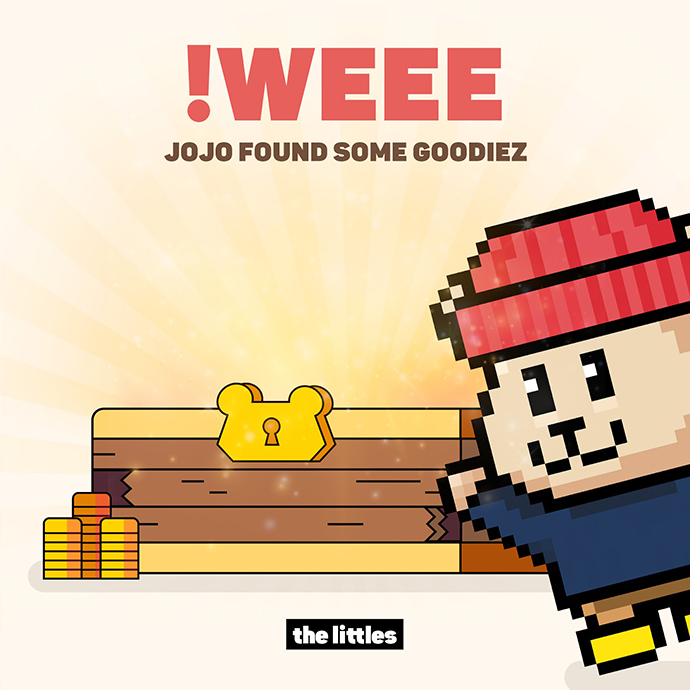 Last but not least, our Podcast
In this episode, Horacio spoke with Cameron Hejazi, the co-founder and CEO of Cent. Cameron created Cent in 2017 with the purpose of creating a community where artists could share their work and build a fan base. Cent made headlines when Valuables, its NFT marketplace of Tweets, minted Jack Dorsey's first tweet and sold it for $2.9 million. Cent also created a separate NFT marketplace that had to be shut down due to fraudulent activity. Cameron discusses all this + a lot more:
I hope you enjoyed this week's issue. We take all feedback into consideration, so please feel free to reach out with tips, comments, or suggestions on what you'd like to hear about next.
Until next week!
Horacio