Welcome to Sports Memorabilia Insider – FREE Version.
We use Moneyball tactics to discover undervalued, mispriced, and hidden gems in Fractional Investing.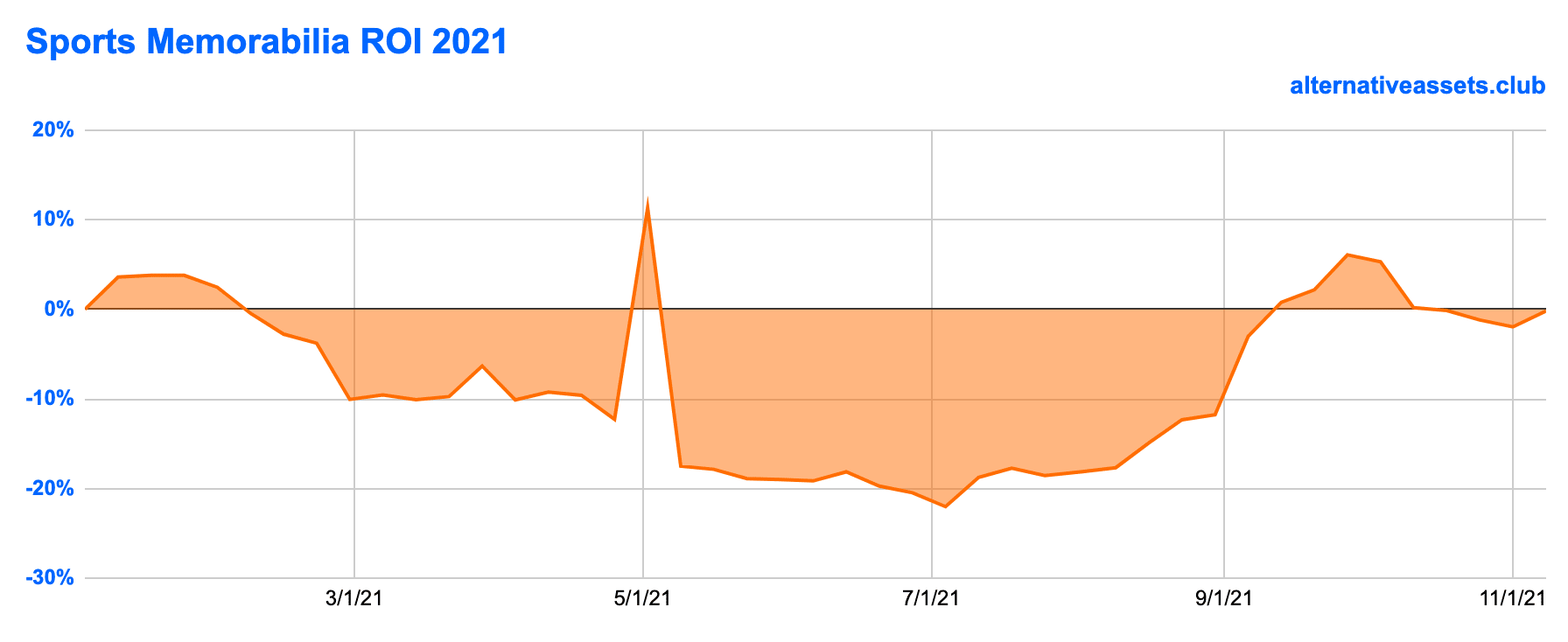 Last Week
Fractional secondary markets
The sports memorabilia category was one of the higher performing alternative asset categories last week posting a gain of 1.8%. The sub-category of basketball memorabilia led the way with a 4.3% advance. Game worn shoes and uniforms provided the boost as the Kevin Durant high school jersey was up 81% and Magic Johnson's 1987 game worn Converse sneakers gained 74%. The Durant jersey has now doubled from its IPO price though its market is thinly traded.
This Week
Assets dropping on marketplaces
Market Cap: $115,000
Inferred Value: $200,000
Platform: Rally
IPO Date: 11/12/2021
Recommendation: [Insiders Only]
Secondary Markets
Three memorabilia assets new to trading this week and Monday of next week with basketball related assets looking to capture attention as the young NBA season enters its fourth week:
Market Cap: $85,000
Inferred Value: $60,000(no change since last update)
Platform: Rally
Trading Date: 11/12/2021
Market Cap: $138,600
Inferred Value: $36,000 (no change)
Platform: Collectable
Trading Date: 11/11/2021
Market Cap: $280,000
Inferred Value: $230,000 (no change)
Platform: Rally
Trading Date: 11/15/2021
Buyouts
Market Cap: $180,000
Inferred Value: $140,000
Platform: Rally
Buyout Offer $203,220 (12.9% gain from IPO price)
Auctions
Supreme X George Condo Skate Decks (set of 3), 2010 (Heritage Auction 2021 November In Focus Skate/Surf/Snow Showcase) (images NSFW!)
Collection of 3 Supreme skate decks with current bid of $3,125
Included in Supreme Skateboards collection on Otis with current market cap of $47,000
1984 Olympic Basketball Gold Medal Game (Michael Jordan) Ticket Stub, PSA VG-EX 4 (Heritage Fall Sports Collectibles Catalog Auction)
Current bid of $1,050
Highest graded example
Interesting play on emerging asset class of graded tickets; could be viewed as Jordan rookie/pre-rookie card equivalent in ticket category
2007 Brett Favre Game Worn, Signed and Inscribed Green Bay Packers Jersey Photo Matched to 11/4 vs. Chiefs (Heritage Auctions November 18 – 20 Fall Sports Collectibles)
Current Bid of $8,100
A basket of three game worn jerseys, including a Favre, is currently trading on Collectable.
The Favre jersey in the Collectable offering is from 2003 Thanksgiving Day game, but should provide a good comp for the Favre portion of the basket.
1946 Joe DiMaggio Game Worn & Signed New York Yankees Jersey Photo Matched to Home Opener (Heritage Auctions November 18 – 20 Fall Sports Collectibles)
Current Bid of $81,000
Rally has a DiMaggio 1950-51 game worn jersey from Joe's final seasons that last traded at a $442,000 market cap.
The 1946 jersey should be a strong comp for the later Rally 1950 jersey and an argument can be made that the '46 jersey should trade at a premium (earlier in the Yankee Clippers career with the added backstory of being worn in his first game back from military service in WWII).