Welcome to Wine and Whiskey Insider for 15th December 2021 – FREE Version.
We use Moneyball tactics to discover undervalued, mispriced, and hidden gems in Fractional Investing.
Podcast
Earlier this week Horacio sat down with Anthony Zhang, CEO of the wine investing platform, Vinovest. In just 30mins, you'll learn a bit about Anthony's personal story (including how he suffered a spinal cord injury that changed his life), and how the importance of gifting good quality wine in Asian culture helped spark the idea for the company.
Check it out:
Wine in 2021
After a tough start to trading in 2021, wine bounced back nicely on the only fractional platform that's currently got a secondary market – Rally. With no assets scheduled to start trading next week, we may see wine hold steady through the end of the year.
This tracks loosely with the Liv-Ex 1000 — the world's most comprehensive wine index — though the broader market has been more one-directional. Note the Y-axis below starts at 275, so the runup over the last 18 months isn't as dramatic as the chart implies.
Something else to bear in mind with the Liv-Ex index and wine in general – it doesn't all go straight up and to the right. If you zoom the chart out a bit to go back to 2003, it tells a different story.
All the component parts of the Liv-Ex 1000 are up between roughly 7% and 13% over the last twelve months and 4% – 10% for 2021.
And that actually does track quite nicely with wines trading across the fractional space, which are up around 11% in 2021.
Last Week
Fractional secondary markets
Nothing is currently trading on fractional secondary markets for wine.
Auctions
Last week, Sotheby's treated us to a mouth-watering collection of whiskeys across three continents – Europe (Scotland), Asia (Japan), and North America (Kentucky).
Five different lots went for six-figures, led by a First Edition Macallan 50 Year Old in Lalique, which hammered at $150k.
A second edition of the same set followed closely behind, fetching $125k with a third edition coming in strong at $118,750. Despite a lower estimate than both the second and third editions, the fourth edition bottle sold for $125k, which is a slight surprise. Perhaps it was the significantly higher alcohol content. ????
Finally, if you've never seen a $6,000 whiskey bottle featuring a Japanese woman in a tiny skirt tossing a caber, today's your day. I'll not lower the tone by including an image, but click to view if that's your cup of tea (or whiskey).
This Week
Assets dropping on marketplaces
One new drop this week coming from Vint – The Rhone Valley Collection.
Market Cap: $153,000
Inferred Value: $149,328
Drop Details: 12/15/21 on Vint
Recommendation: [Insiders Only]
Deep Dive
About the Region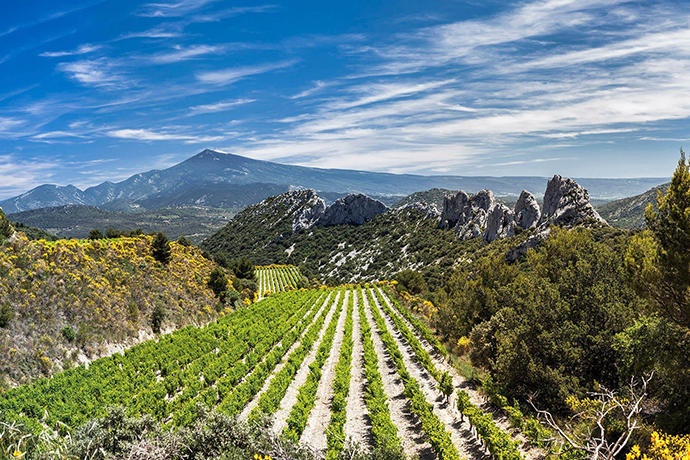 Rhône Valley is one of France's most prolific and historic wine regions. The distinctive terrain is shaped by the Rhône river, which sprawls from France to the Swiss Alps, 500 miles away.
Centuries of volcanic activity in the area slowly enriched the soils, forming the perfect environment to produce the Rhône Valley wines we enjoy today.
Whether you're after a glass of red, white or rosé – Rhône Valley has you covered.
About the Wines
Vint's Rhône Valley collection features 360 bottles of 10 different wines.
According to the Liv-Ex index, the NASDAQ of fine wines, Rhône region wines comprise 4.5% of the global wine trade by volume in 2021.
Rhône Valley is home to the Syrah grape, a red grape indigenous to the region. This fruit is the centerpiece of Cote Rotie and Hermitage's famous wines, and plenty of both are included in the collection.
The Vint collection encompasses the north and south regions of Rhône Valley, as each locality produces vastly different wines.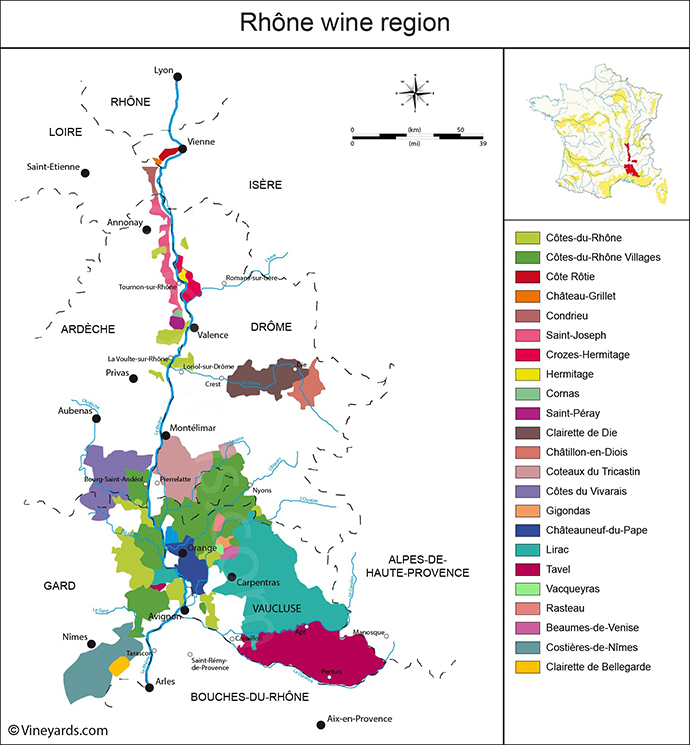 From the north, single-vineyard powerhouse Guigal's "La La La" wines (wines from La Mouline, La Landonne and La Turque) are represented, including the 2010 vintage where all three wines were rated 100 points.
Down south, Châteauneuf-du-Pape products are highly coveted. They are the most-traded wines in the collection, accounting for 55% of the trading volume of wines from the Rhône Valley in 2020.
Highlights
Strong recent performance
The Rhône -100 Index, according to Live-Ex, has comprehensively outperformed gold as an investment in 2021. Whereas gold's value has regressed -5.75% year-to-date, the Rhône -100 has improved an impressive 12.07%.
The Rhône -100 saw an increase of 1.91% between October and November, suggesting that these noteworthy returns may be here to stay.
Wines from the Rhône region have even surpassed Bordeaux and Italian wines in value throughout 2021.
The "La La La" wine trifecta
The three Cote Rotie wines consistently post ratings of above 95 on Robert Parker's scoring scale. The 2010 vintage was particularly memorable, with all three wines topping the charts with a score of 100.
As with the other two single-parcel Cote Roties, the 2010 Cote Rotie La Landonne is pure perfection in a glass. – Wine Advocate.
Châteauneuf-du-Pape's trading surge
Wines from Châteauneuf-du-Pape made up 55% of all Rhône wines traded throughout 2020, and this figure has improved to 58% in 2021.
This surge in trading volume is the highest the appellation has experienced in over a decade, with the last comparable year of trading back in 2008.
Inferred Value We did a bottle-by-bottle breakdown of the collection to tally up the sums for you.
Our inferred value is around 2% off Vint's market cap, which represents a pretty fair valuation given the time and effort spent assembling the collection.
Conclusions
Vint's upcoming Rhône Valley collection is an exciting prospect for those in love with the region's produce. The inclusion of the 2010 "La La La" trio's vintage is particularly enticing and likely to hold up in value.
The Rhône-100 has outperformed other typical hedges against inflation (like gold) over the past 24 months, and this trend seems likely to continue.
The expected maturity date of this collection is 2024–2028, meaning investors will need to wait a while before realizing returns.
It's worth recognizing that the market cap of the collection is higher than the wines' current value, but it's not as large a premium as you'd typically see once an asset is fractionalised.
This should be a steady slow-burn long-term asset that returns 5% to 10% yearly over the next decade.
Auctions
Zachys is running a (relatively) approachable and affordable no reserve auction starting 16th December. It features a cellar liquidation from First the Wine, a wine merchant in Los Angeles.
Estimates range from around $250 per 12 bottle case to $200 per bottle. It's a great opportunity to get your feet wet and possibly score a bargain.
If your tastes run a bit dearer, Sotheby's can whet your whistle this week.
The auction features another single-owner collection – this one from Britain. The collector's focus was Bordeaux, Burgundy, and blue-chip champagne. All in, more than seven decades are represented in this auction, and several lots are set to fetch more than £50k.
The prize piece (in my opinion) is a pair (!) of Château Mouton Rothschild 1945 bottles. Ideal to combine with atrocities like foie gras and veal, this vintage features "ripe exotic aromas, black fruit, coffee, snuff, and mocha oriental spices."